News & Events
4-Week Study Abroad Program Explores Food Systems in Italy

Announcing a 4-week intensive, interdisciplinary program that uses systems thinking and a variety of perspectives to understand how factors, such as culture, policy, diet, and market structure, interact to create environmental, economic, health, and social/equity outcomes.
La Dolce Vita: Comparative Food Systems in Italy begins with farm stays in Tuscany – a farm in the rolling hills of Tuscany and then a coastal, organic farm – where we will learn about sustainable agriculture and will cook and taste regional and sustainable foods.
Next to the UW Rome Center to explore drivers that have shaped food systems in Italy where we will discuss how dietary choices influence human and planetary health. We will meet with civic food networks and international food agencies focused on sustainability and food security.
Finally, we will travel to the Emilia-Romagna region to tour and learn about Italy's mature and growing cooperative economy. We will study three important artisanal Italian products (i.e., balsamic vinegar, parmigiano reggiano, and prosciutto) to understand the advantages and limitations of producer associations for both producers and consumers.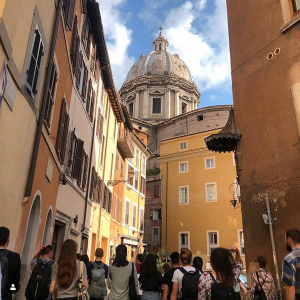 Throughout will be a discussion on how to evaluate the evidence to make responsible personal and political choices, and comparisons and reflections of food systems between the U.S. and Italy.
Earn 12 credits while in Bologna, Rome, and Tuscany:
Economics of Food Policy – 4 credits – Instructor: Christopher M. Anderson, PhD
Sustainable Food Systems in Italy – 4 credits – Instructor: Jennifer J. Otten, PhD, RD
Health in the Context of Culture – 4 credits; Instructor: Kerryn W. Reding, Ph.D., MPH, RN
---
Apply by Jan 31, 2020
---
---
This program is funded through the Global Innovation Fund, a program that awards recipients with seed funding for global initiatives and projects at the UW with a focus on inter-disciplinary and cross-college collaboration.
December 11, 2019