News
New study to evaluate COVID-19 impacts on Washington State food security
As the COVID-19 pandemic unfolds, how and to what extent households are able to access food continues to change in the U.S. and across the globe. What are the impacts to our food supply and food security in Washington state?
A new UW study funded by the University of Washington Population Health Initiative and the Department of Epidemiology will examine how the pandemic has affected food security and food access in the five most affected Washington State counties: King, Snohomish, Pierce, Yakima and Spokane. Leading the study are Adam Drewnowski and Jennifer Otten, who are faculty researchers with the Center for Public Health Nutrition and the Nutritional Sciences Program in the School of Public Health.
The project will leverage the expertise of Drewnowski, whose work deals with disparities in diet quality and health by geographic location. His current major study with Kaiser Permanente of Washington examines health outcomes in Seattle neighborhoods.
Otten is a co-investigator on the Seattle Minimum Wage Study, and current member of a National Academies committee conducting a systematic review of consumer food waste. Otten is also leading UW efforts in expanding the curriculum in food systems to address the complex issues we face with the sustainability of the food supply.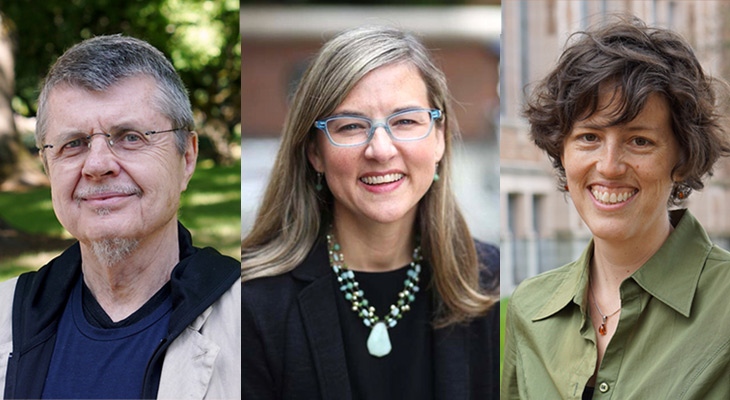 In recent days, national news coverage has highlighted these complexities and vulnerabilities specific to the COVID-19 pandemic, from raising speculation about potential meat shortages to an increasing demand at food banks. 
Food production, processing, and delivery systems are experiencing instability.  For lower-income Washington State residents, Otten says, food access and food insecurity was already a critical concern, even before COVID-19 came along.
"Washington State government emergency planning documents detail current food shortages and forecast more for food banks and other emergency food assistance programs even as there are a growing number of unemployed and more people in need than ever," said Otten.
"We hope to help state agencies learn more about how households are being affected so that they can invest their limited resources in the best possible ways."
There is an unprecedented need for unemployment benefits, public assistance programs, and food from local food banks.  Moreover, local, state, and federal measures to mitigate the dietary and health consequences of COVID-19 lack geo-located and granular data to aid in decision-making.
"Natural disasters have most impact among the most vulnerable groups. Fast recovery depends on the ability of communities to address and handle issues of food access and food security. We want to equip Washington State and local health departments with data to help them navigate aid for faster recovery," said Drewnwoski.
The project work began on May 1, 2020 with findings expected at the end of August 2020. Read complete project details by visiting the Center for Public Health Nutrition website.
Other researchers working on the project include:
May 4, 2020