Nutritional Sciences Program
NSP
---
October 7, 2021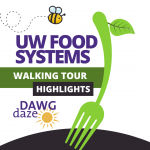 Many thanks to all the UW Huskies who joined us October 1, 2021 for our UW Food Systems Walking Tour! The tour, organized by the Nutritional Sciences Program's Student and Academic Services team, explored the University of Washington's food system and was a featured activity as part of the 2021 Autumn Dawg Daze events. Tour…
---
September 27, 2021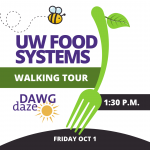 Join representatives from the Food Systems, Nutrition, and Health Major for a guided tour of campus to explore the University of Washington's food system, an activity sponsored by UW Nutritional Sciences Program as part of the 2021 Autumn Dawg Daze events. The tour will make stops at the Medicinal Herb Garden, outside the UW Food…
---
September 21, 2021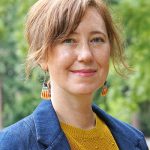 Jessica Jones-Smith, an associate professor of epidemiology and a core faculty member in the Nutritional Sciences Program will present at the Fred Hutchinson Cancer Epidemiology and Prevention Seminar on September 22, 2021. Jones-Smith will be discussing some of her recent research investigating the association between the Healthy Hunger Free Kids Act and Children's Diet Quality….
---
September 8, 2021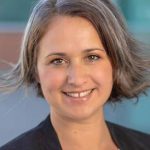 The University of Washington Nutritional Sciences Program is pleased to welcome Dr. Alissa Bilfield as a new member of our core faculty and growing team of food systems faculty. Bilfield began her appointment as an assistant teaching professor in the Department of Environmental and Occupational Health Sciences  in the UW School of Public Health September…
---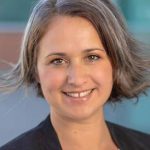 Alissa Bilfield received her PhD in Public Health from Tulane University, her Master of Science in Environment and Development from the London School of Economics and her Bachelor of Arts in Political Science from Vanderbilt University. She is a faculty member in Nutritional Sciences Program and the Department of Environmental and Occupational Health Sciences in…
---
August 20, 2021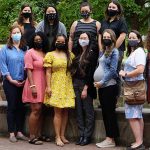 Friday, August 20, we recognized the accomplishments of our students who will complete their graduate degrees and Graduate Coordinated Program in Dietetics (GCPD) training in 2021. The small gathering consisting of students, staff, and faculty took place in the UW Quad. Anne Lund, the program director said, "Graduation looked a little different this year as…
---
August 19, 2021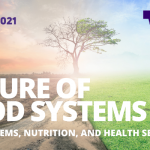 There is growing urgency for our food systems to be more sustainable, resilient, and equitable. But how? The UW Nutritional Sciences Program will welcome experts and practitioners currently working at the forefront of these challenges to advance this conversation during our autumn 2021 Food Systems, Nutrition, and Health Seminar. Guest speakers will include Michael Fakhri,…
---
July 15, 2021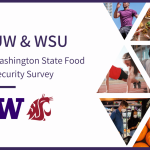 A third wave of the WAFOOD Survey is now active, and asks all Washington State residents over the age of 18 to provide information on their household food access, economic security, and emotional well-being during the COVID-19 pandemic. Earlier findings gathered in June and July 2020, found that 30% of WA households were food insecure,…
---
June 27, 2021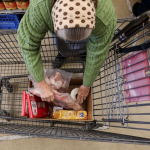 Food bank staff and public health officials predict it will take households several years to recover from food insecurity made worse by the economic instability of the pandemic. Ongoing research led by the UW Center for Public Health Nutrition in partnership with Washington State University and Tacoma Community College is highlighted.
---
June 14, 2021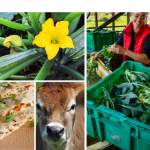 University of Washington Food Systems, Nutrition, and Health majors once again collaborated with over a dozen regional partners in Seattle-King County during spring quarter 2021 to complete capstone projects that helped advance initiatives focused on increasing sustainability, resilience, and equity across the food system. This year's projects, which centered on common themes of food security,…
---
Next page