Nutritional Sciences Program
NSP
---
May 13, 2021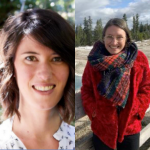 Congratulations to University of Washington current and past dietetics students who were honored this year with annual awards of excellence by the Washington State Academy of Dietetics and Nutrition (WSAND). Each year, WSAND honors individuals in the dietetics profession who have stood out among their peers, elevating the field of nutrition and dietetics, and exhibiting…
---
May 11, 2021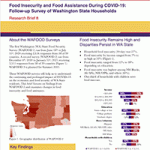 Food insecurity remains high and disparities persist among Washington State households, while reliance on food assistance programs across the state have risen over the past six months, according to new data published by the University of Washington Center for Public Health Nutrition. The latest report from the WAFOOD research team compares data from two surveys,…
---
May 6, 2021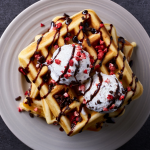 Do you eat with your eyes? How does your brain decide what makes one food more appetizing than another?  Register for NUTR 490, offered autumn 2021, to explore food from multiple perspectives, and go beyond taste, sight, and smell! In this advanced course, you will critically evaluate, through the study of research and practical applications,…
---
March 31, 2021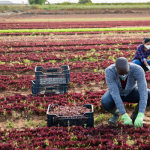 Nearly 60% of farms and ranches in Washington State have been negatively impacted by COVID-19 in 2020, and expect to make changes to adapt their businesses in 2021, according to a new report published by the University of Washington Center for Public Health Nutrition in collaboration with Washington State University and the Washington State Department…
---
March 23, 2021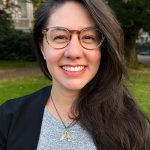 Marie Spiker speaks with the Los Angeles Times about global food waste and new data published in the Food Waste Index for 2021 by the UN Environment Programme which assesses that the world wastes 1 billion tons of food each year.
---
March 3, 2021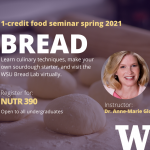 Bread has long been a staple source of nutrients throughout history, and this spring quarter in NUTR 390, we'll examine bread from scientific, nutritional, historical, culinary, and cultural perspectives. More About the Course Bread has long been a staple source of nutrients throughout history. There are thousands of varieties of flour mixtures. Some are as…
---
February 22, 2021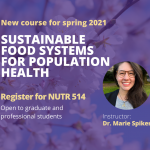 A new graduate-level course offered by Nutritional Sciences in spring 2021, will use food systems as a lens for viewing and understanding public health principles. The course, NUTR 514 Sustainable Food Systems for Population Health which is a 3-credit course, is now open for registration to all graduate and professional students at the UW. This…
---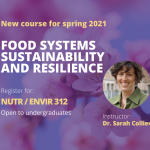 What are the current and future challenges with our food system? NUTR/ENVIR 312 Food Systems Sustainability and Resilience is a new undergraduate course being offered in spring 2021 which explores the concepts of sustainability and resilience as they are used today in the study and management of agricultural and food systems. The course takes a…
---
February 17, 2021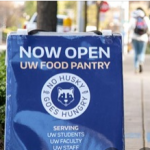 The Daily highlights how the UW Food Pantry is adapting to address food insecurity, and what UW Nutritional Sciences Program researchers involved in the WAFOOD survey have assessed thus far about state-wide food insecurity trends during the pandemic.
---
February 11, 2021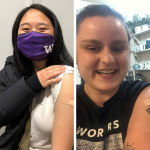 Graduate students in the University of Washington Graduate Coordinated Program in Dietetics began on-site clinical rotations in January, after receiving eligibility for the COVID-19 vaccination in December from UW Medicine, along with other UW students, postdocs, staff, and faculty members who work in a clinical setting. Anne Lund, director of the GCPD, says that this…
---
Next page