Resources
Washington State Food System Assessment Report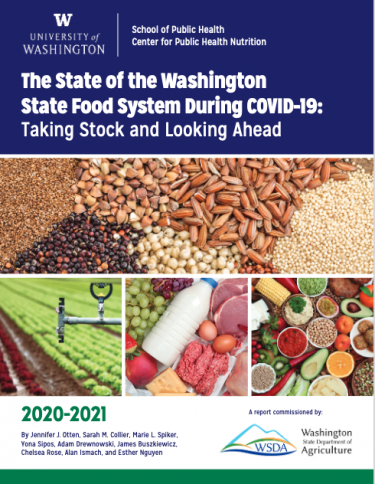 This report was prepared for the Washington State Department of Agriculture (WSDA) and published online December 14, 2021. Titled The State of the Washington State Food System During COVID-19: Taking Stock and Looking Ahead, the report provides an in-depth assessment of the state of Washington's food system during the COVID-19 pandemic and identifies strengths, weaknesses, and ongoing risks affecting Washington's food system, as well as opportunities to facilitate the co-creation of a more equitable, resilient, and economically viable food system.
Summary
This comprehensive report synthesizes impacts across sectors of the Washington State food system, including food production, the food supply chain, and food access, highlighting areas of significant impact for agricultural producers and documenting rising rates of food insecurity among Washington households. The report also examines how food production, distribution, and assistance systems adapted to disruptions and transformed to meet the needs of vulnerable populations. Common themes across sectors include the importance of collaborative problem-solving, a shift towards greater emphasis on local and regional markets, and the great diversity which defines and lends resilience to Washington food systems.
Explore More: Find all publications related to this study on the project page.
Materials
---
Publication Date: December 14, 2021
Author(s): The Washington State Food Systems Assessment was developed by Jennifer J. Otten, Food Systems Director and Associate Professor, Nutritional Sciences and Environmental and Occupational Health Sciences (DEOHS) at UWSPH; Sarah M. Collier, Assistant Professor, Nutritional Sciences and DEOHS at UWSPH; Marie L. Spiker, Assistant Professor, Nutritional Sciences and Epidemiology at UWSPH; Yona Sipos, Assistant Teaching Professor, Nutritional Sciences and DEOHS at UWSPH; Adam Drewnowski, Director, Center for Public Health Nutrition (CPHN) and Professor, Epidemiology at UWSPH; James Buszkiewicz, Research Investigator, University of Michigan Department of Epidemiology and formerly Research Scientist, Epidemiology at UWSPH; Chelsea M. Rose, Research Scientist, Epidemiology at UWSPH; Alan Ismach, Research Coordinator, DEOHS at UWSPH; Esther Nguyen, Research Coordinator, CPHN at UWSPH.
Resource Type(s): Reports
Research Area(s): Food & Nutrition Policy, Food Access, Food Systems & Nutrition, Social Determinants of Health