Resources
WAFOOD Brief 13 – Food Access and Economic Well-being: Additional findings from a 4th survey of Washington State households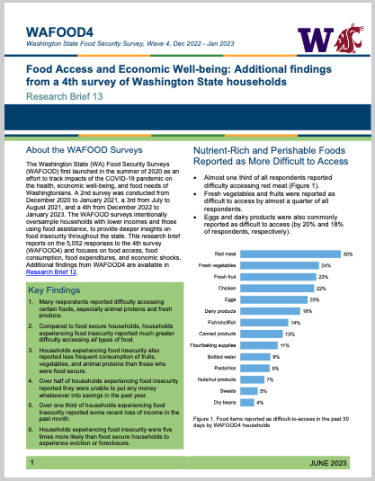 Published August 3, 2023, this brief focuses on previously unreported findings from WAFOOD4 (December 2022/January 2023) including data on food access, food consumption, and food expenditures during the COVID-19 pandemic.
Initial Findings
A total of 5,052 Washington State residents responded to the WAFOOD4 survey. Among the WAFOOD4 sample, which over-sampled households with lower incomes, many reported difficulty accessing foods, particularly animal proteins and fresh produce. Households experiencing food insecurity reported significantly greater difficulty in accessing all types of food, and reported less frequent consumption of fruits, vegetables, and animal proteins compared to food secure households. More than half of households experiencing food insecurity reported they were unable to put any money whatsoever into savings over the past year, and over one-third reported some income loss in the past month. Households experiencing food insecurity were five times more likely than food secure households to experience eviction or foreclosure.
Explore More: Find all briefs and publications related to this study on the project page.
Materials
---
Publication Date: August 3, 2023
Author(s): The WAFOOD survey is a joint effort between the UW and WSU. The WAFOOD4 team comprises Jennifer J. Otten, Associate Professor, Nutritional Sciences Program (NSP) and DEOHS at the UW School of Public Health (UWSPH); Marie L. Spiker, Assistant Professor, NSP, Epidemiology, and DEOHS at UWSPH; Jane Dai, PhD Student, Health Systems and Population Health at UWSPH; Ashley S. Tseng, PhD Candidate, Epidemiology at UWSPH; James Buszkiewicz, Research Investigator, Epidemiology at University of Michigan Ann Arbor SPH; Shawna Beese, Assistant Professor of Rural Health Promotion at WSU Health Sciences; Sarah M. Collier, Assistant Professor, NSP and DEOHS at UWSPH; and Alan Ismach, Research Coordinator, DEOHS at UWSPH.
Resource Type(s): Briefs
Research Area(s): Food Access, Food Systems & Nutrition