Resources
Healthy Policies Toolkit: Nutrition and Physical Activity in Child Care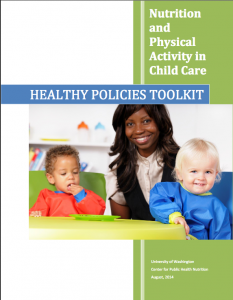 This toolkit was produced in 2014 and designed for early childhood education professionals to use in designing and implementing healthy child care policies. The toolkit contains recommendations from the following sources:
Let's Move! Child Care
Preventing Childhood Obesity in Early Care and Education Programs, 2nd Edition: Selected Standards from Caring for Our Children: National Health and Safety Performance Standards, 3rd Edition.
American Academy of Pediatrics
United States Department of Agriculture
The guide contains self-assessment checklists for 13 nutrition and physical activity best practices, model policy language and implementation tips, action planning worksheets, and a resource list.
Materials
---
Publication Date: August 1, 2014
Author(s): Elizabeth Payne, MPH, RD
Resource Type(s): Reports
Research Area(s): Early Care & Education