Resources
Healthy Kids, Healthy Future: Healthy Eating
---
Updated Training Coming Soon
---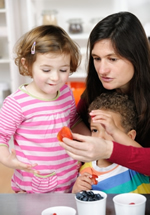 Healthy Kids, Healthy Future: Healthy Eating will be a free online training course developed and maintained by state-approved trainers* at the University of Washington Center for Public Health Nutrition.
Updates and Timeline
This will be an updated version of our previous Let's Move! Child Care: Healthy Eating training. We expect to make the training available on this webpage during the summer of 2020. 
Contact
Contact us at ecetrain@uw.edu with questions about this training.
---
Notes
*The Washington State Department of Children, Youth, and Families (DCYF) manages the State Training and Registry System (STARS) through the Managed Education and Registry Information Tool (MERIT). STARS trainings provide state accredited continuing education hours for early learning providers. MERIT is an online professional development tool to find and track STARS training hours.
---
Publication Date:
Author(s): Tori Bradford
Resource Type(s): Trainings
Research Area(s): Early Care & Education