RDN Training
Preceptor Resources
Thank you for serving as a preceptor to UW dietetic interns. Use the resources below to enhance your precepting experience.
Preceptor Handbook
The Preceptor Handbook contains helpful information about the role and benefit of being a preceptor, as well as general intern policies while in the Practice Experience.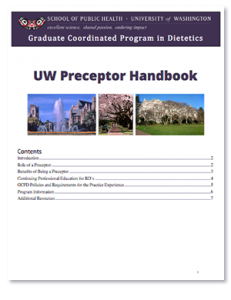 ---
General Intern Schedule
Students are assigned to rotation sites for a total of 32 hours per week. The UW academic calendar observes state holidays and students are not expected to be at sites on these days. Students may also be absent from sites in the event of inclement weather that causes the UW campus to close. Students will be away from sites all-day most Fridays to attend GCPD Seminar and to complete rotation assignments. Students may attend rotation sites on a Friday if there is a GCPD event on another day that week.
Preceptor Resources
GCPD Annual Reports