About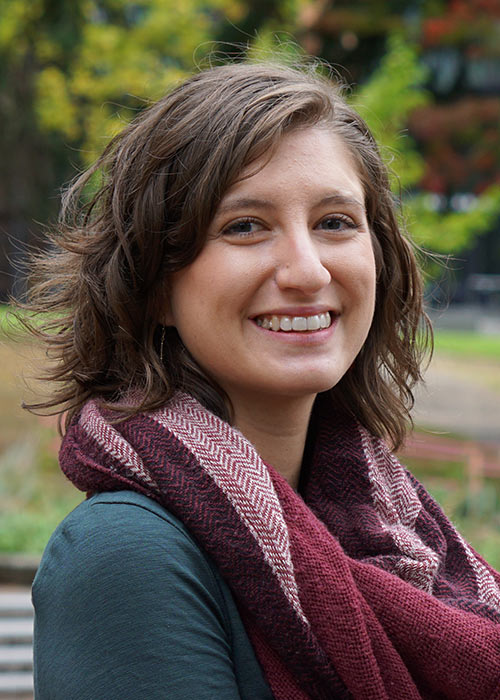 What influenced you to pursue a degree in nutritional sciences?
Pursuing health through food and nutrition has always played a pretty big role in my life and throughout my career, I have had different opportunities to provide nutrition education and promote sustainable agriculture. With it being such a big part of my life, I've also gone through my own challenges with finding balance and developing a healthy relationship with food and my body. Over the past few years, I have learned more about Health at Every Size® and Intuitive Eating principals as a way to improve my own relationship with food. Through my journey, I realized these approaches to health were things I felt passionate about and hope to share with as many people as possible.
Why did you choose UW?
I chose the UW because of the strong focus on evidence-based practice that I think is so valuable in all health-care professions. Additionally, I had heard that many faculty members were already researching and open to Health at Every Size® and Intuitive Eating approaches to nutrition care which was extremely exciting and showed that the UW would be a good fit for me.
What has stood out for you in your first year in the program?
Even though our first year of grad school was entirely remote, I'm incredibly impressed by how my cohort connected as a group, worked closely on projects together, and supported each other throughout the year. When I look back on the past year, in addition to being proud of all hard work we put in, I'm also proud of the support system we built and connections we made. In my mind, grad school is as much about building connections and relationships as it is about learning new information, and I'm incredibly grateful for the support system we created even when we were only interacting with little moving pictures on a screen.
What kind of research or internship will you be doing?
I am starting my second year now, and will be completing the LEAH Fellowship with Seattle Children's Hospital where I'll learn alongside an interdisciplinary team to become a leader in providing improved care for adolescents. I look forward to being able to learn how to work as part of an interdisciplinary team, and have a positive impact on nutrition care for adolescents. The tools I learn from leadership training I hope to use to create and implement public health interventions aimed at children and adolescents that help to prevent the development of eating disorders in this population.
What are your future goals?
In my future career, I hope to provide the most effective treatment for those working through eating disorders, and help clients or patients to improve their relationship with food and their bodies. I also want to use my public health education to work in eating disorder prevention. I'm not entirely sure what that will look like yet, but I would like the work I do help educate kids and adolescents about health, nutrition, and exercise so they learn to appreciate their bodies more, rather than criticize them!
What extracurricular activities do you enjoy?
Seattle makes it easy to enjoy being active, so I love to go paddle boarding, out for walks around the neighborhood, get out of the city to go for hikes and camping trips. And of course, I also love hunkering down to watch a good show or movie with my cat and husband!
What do you like most about living in Seattle?
I love the lack of humidity in Seattle. Coming from the Midwest, a summer without humidity is one of the greatest joys in my life. I also love the mountains, the amazing food and drink options, and the people I've met over the years I've been here.
What advice would you give a student who is considering graduate study with the UW Nutritional Sciences program?
Know that the faculty and staff are some of the most supportive people I've ever met. They are all so kind and caring and are more than happy to talk to you with any questions or concerns you might have. Do not hesitate to reach out to someone because they sincerely just want to help you make the best decision for your future.
---
Are you interested in studying nutritional sciences as a graduate student? Explore graduate study and RDN training offerings in the UW Nutritional Sciences Program.