About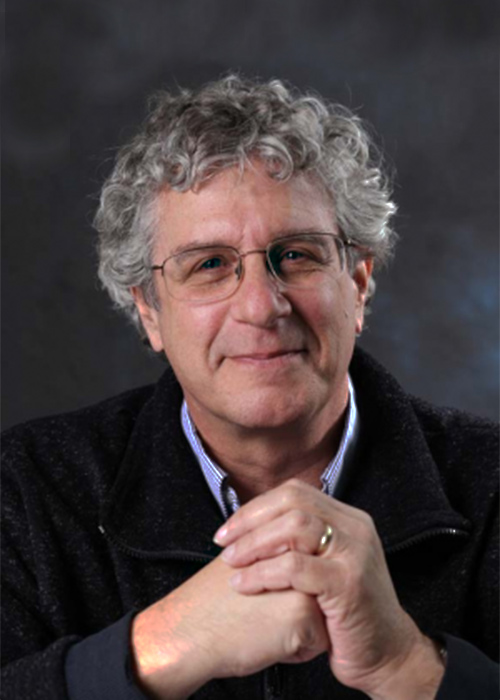 Written by Deirdre Lockwood, published June 17, 2020
"I have loved teaching about nutrient metabolism and nutrition. When the class as a whole does well—when they are able to stay with you and ask really good questions and do well on the exams—that is rewarding. "

– Michael Rosenfeld
When Michael Rosenfeld started college, he planned to become a labor historian. But his cell biology professor at Grinnell College turned him on to science.
His early captivation with cell and molecular biology inspired his wide-ranging career exploring the role of nutrition in health and the impacts of air pollution and respiratory infection on heart disease and stroke.
Rosenfeld is retiring this June after nearly 30 years as a UW professor in the Nutritional Sciences Program, the Departments of Pathology and the Department of Environmental & Occupational Health Sciences (DEOHS).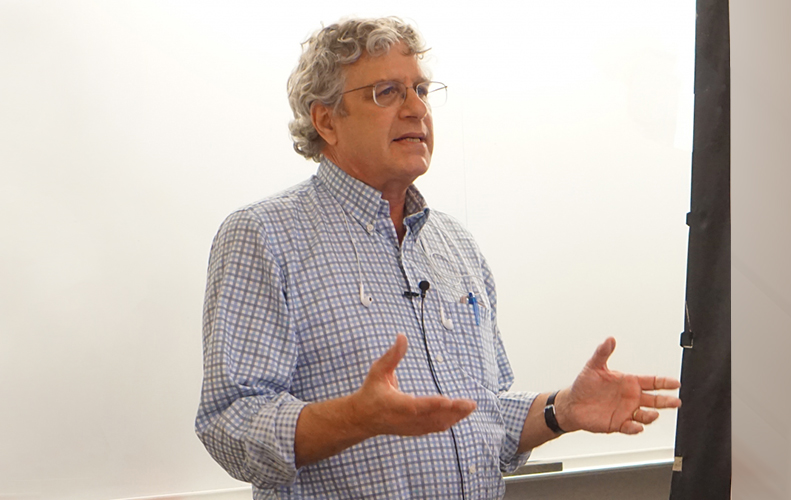 "Mike is a very accomplished vascular biologist who has dedicated his career to the understanding of atherosclerosis as well as the role of the nutritional sciences," said DEOHS Professor Joel Kaufman, who has collaborated with Rosenfeld.
From Nutrition to Atherosclerosis
Rosenfeld first got interested in nutrition by studying the importance of vitamin D in bone development as a master's student at the University of Vermont.
That spurred on his PhD in Nutritional Sciences at the University of Wisconsin, where he investigated nutrient metabolism in blood vessels—a self-directed project in more ways than one.
To get his research materials, he biked to the local Oscar Meyer factory each morning to cut aortas from pigs and cows.
"I put them in a bucket of ice, put it on the back of my bike and rode as fast as I could back to the lab," he said.
That work sparked his deep interest in atherosclerosis, the hardening of arteries that is a major cause of heart attacks and strokes.
A Love of Teaching
Rosenfeld first came to UW in 1982 to do a postdoc with the late Russell Ross, a leading atherosclerosis researcher and the chair of the Department of Pathology at the time.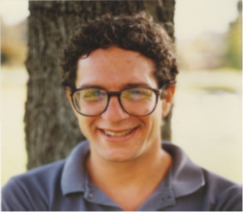 Then, in 1992, UW recruited Rosenfeld to teach in the Nutritional Sciences Program, with appointments in the Departments of Pathobiology and Pathology.
Over his nearly 30 years of teaching in Nutritional Sciences, Rosenfeld has been energized and inspired by working with students in his classes on nutrient metabolism and food safety and health. He has found it just as rewarding to train junior researchers in the lab, where he mentored about a dozen PhD students and about two dozen postdocs.
"That's the legacy for me, having worked with lots of great young, smart people," Rosenfeld says.
Rosenfeld's Legacy
Rosenfeld managed a vascular biology lab in Raitt Hall and more recently at South Lake Union. Students and researchers working in the Rosenfeld lab were inspired by his approach to research and grateful for his ongoing support.
Prof. Dr. Med. Florian Bea, chief medical doctor at a hospital in Heidelberg, Germany, recalls working in the Rosenfeld lab for his first full-time research position, which started in the spring of 2000.
"I think Mike really moved the focus in atherosclerosis research to advanced lesions," said Bea. "That was in my view extremely important because nobody at that time did so."
Marcello Rattazzi, now an associate professor in internal medicine at the University of Padova in Italy, also worked in Rosenfeld's lab in 2003.
"Working with Mike was a unique experience," said Rattazzi. "I learned from him the great value in mentoring is freedom: freedom to test your ideas, freedom to establish your personal connections and collaborations, and freedom to challenge the ideas of your PI and argue with him.
I was amazed how he never pushed, he just waited for the results and they always came. I learned that this was not a passive attitude, but a productive way to help your collaborators to develop their own personality and capacity."
Other graduate students Rosenfeld mentored as doctoral candidates and master's students remember his dedicated and inspiring support.
"The one thing that will always inspire me after working with Mike is his commitment and loyalty to supporting those who he has mentored," said Michelle Averill, who is now the clinical coordinator for the Graduate Coordinated Program in Dietetics in the UW Nutritional Sciences Program.
Rosenfeld was Averill's dissertation adviser as a doctoral student (PhD '06). "Mike always supported my career and continues to be a strong advocate for junior faculty," she said.
Brian Bennett (PhD '06), now the Research Leader of the Obesity and Metabolism Unit of the USDA's Western Human Nutrition Research Center, said, "Mike provided a general framework of what could be done and good input scientifically on next steps. Simple but invaluable to my scientific development."
Bennett has continued to stay in touch with Rosenfeld and continues to seek his opinion about various things. "The mentorship has gone on much longer than I realized it would and this has been helpful," he said.
"Mike has been such a big pillar of the Nutritional Sciences program for so many years, " said Emily Conner, another of Rosenfeld's students (MS '18). "I'm grateful for getting to learn from and work with him. It was a valuable part of my learning process."
"Mike has inspired me to continue research on nutrition and metabolism in my future," said Jenna Harrigan, a former student (MS '15) and current PhD candidate at UCLA.
"I want to one day lead a lab where I hope to find answers to important metabolism questions and teach and motivate others in these important topics, as he has done," she said. "Mike should be remembered for not only his amazing depth of knowledge, scientific rigor in his experiments, and passionate teaching style, but also for his genuine and warm mentoring style that emboldened students to go after their goals."
Environmental Underpinnings of Heart Disease
Rosenfeld joined DEOHS in 2006, in part because of his interest in how air pollution contributes to cardiovascular disease.
The move combined his previous work on the pathology of atherosclerosis with an environmental health approach, and fostered collaborations with Professors Terrance Kavanagh, Joel Kaufman and others in the department.
Rosenfeld developed mice that were genetically altered to show signs of atherosclerosis, and a way to characterize the blood vessels of these mice for signs of the disease.
That mouse model helped establish how air pollution impacts atherosclerosis in his collaboration with Kaufman, where the two tested the effect of diesel exhaust on the mice.
"We made an important contribution to getting people to understand that air pollution doesn't just cause respiratory problems," Rosenfeld said.
"He has been a very important, valuable collaborator, and we'll miss his contributions to the science of the environmental features of cardiovascular disease," Kaufman said.
Spirit of Collaboration
Rosenfeld also showed how a form of chlamydia that affects the lungs, called Chlamydia pneumoniae, contributes to atherosclerosis in mice, in collaboration with UW Global Health Professor Lee Ann Campbell.
"It wasn't the normal approach to cardiovascular research," he said of his two major research projects. "It was only being here at UW that gave me the opportunity to do this, because there were other faculty who were interested in these areas."
Rosenfeld also chaired DEOHS's curriculum committee for many years and served on UW's Faculty Council on Research.
"His leadership and positive spirit have made a lasting contribution to our faculty, school and UW overall," said Michael Yost, DEOHS professor and chair.
Let Your Garden Grow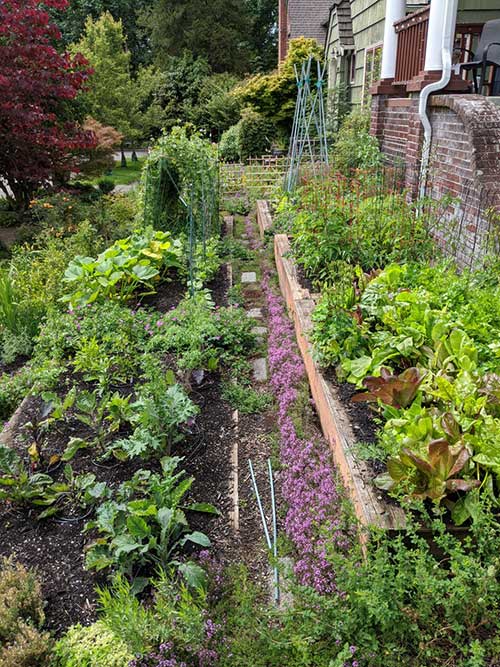 In the course of Rosenfeld's career at UW, his wife and three sons have all worked or studied there. As he retires, he's looking forward to spending more time with them, as well as his two dogs, Gabriella and Buckley.
In keeping with his nutrition background, Rosenfeld loves gardening and cooking, and his wife has an Associate Arts degree in baking: the two have already planted this year's rhubarb, peppers and eggplant.
Though the pandemic makes their plans uncertain, they hope to check off some of their dream travel destinations in the coming years, including Italy, southern France, Scotland, Ireland and New Zealand.
Rosenfeld also hopes to continue volunteering to mentor science teachers in the Seattle School District, which he began through the ATHENA teacher training workshops offered by the Interdisciplinary Center for Exposures, Diseases, Genomics and Environment, part of DEOHS.
"Overall, being a professor at UW has been a really great career," he said. "I don't have any regrets whatsoever."
———–
This story was adapted from a post written by Deirdre Lockwood originally published on the DEOHS Blog, available here.