About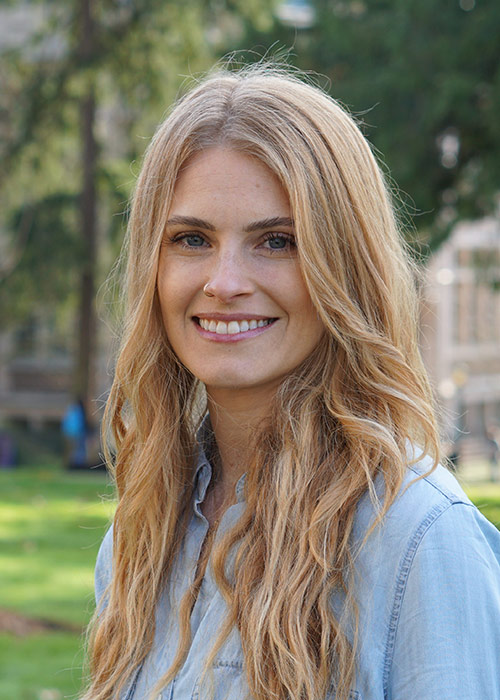 Why did you choose UW?
I had a really great experience at UW during my undergraduate studies. When I decided to study nutrition, I spoke with several past students who highly recommended the nutrition graduate program. I also loved that UW was one of the few graduate programs to offer a coordinated Master of Science with RDN training. I was further impressed with the connections that the RDN training program has within the Seattle community. In particular, I was excited to have the opportunity to complete my training at sites such as Seattle Children's Hospital.
What excites you about nutrition?
My undergraduate degree is in psychology, which sparked my fascination with the psychology of eating. There is a sort of morality that we assign to our food choices, eating behaviors and body types in this culture. I think these food and body norms are a detriment to our relationship with food. I am most invigorated by challenging these norms, and learning how I can best help individuals who are struggling with food and body concerns.
What inspired you to pursue a Master of Science in Nutrition?
For me, pursuing a Master of Science in Nutrition was all about a career change. Prior to graduate school, I was involved in restaurants and art. I love restaurant culture, and have realized what I enjoy most about it is facilitating a meaningful experience with food and wine for my guests. With my own love for food and wine, and a propensity for helping others, studying nutrition and becoming a registered dietitian nutritionist was the obvious answer!
Tell us about your research and/or practice?
I was extremely fortunate to have the opportunity to work with Michelle Averill,PhD, RDN, and Erin Harrop,MSW, LSWAIC to develop my thesis. Erin is a doctoral student in the UW
School of Social Work and their research investigates healthcare-related weight bias experiences of individuals with restrictive eating disorders who are of "normal" or higher body mass index (BMI). Erin's research highlights that weight bias is ever-present in the healthcare system. I am hopeful that this research will further raise awareness of this issue to help improve healthcare services and inequities for individuals in larger bodies.
Currently, I am completing a fellowship with Seattle Children's Hospital in the Adolescent Medicine department. The Leadership Education in Adolescent Health (LEAH) fellowship is an interdisciplinary training program that prepares fellows to be future leaders in adolescent health with the goal of reducing health disparities, as well as improving health equity and services delivery for adolescents. Each fellow completes a culminating leadership project. My project aims to improve eating disorder screening among patients across all disciplines in the Adolescent Medicine department (Medicine, Nursing, Social Work, Nutrition, and Psychology).
I am also completing my inpatient clinical rotation as a dietetic intern at Valley Medical Center. I have loved working in the hospital setting and am finally able to utilize the knowledge I've acquired in the program and apply it to patients.
What are your future goals?
This is such a hard question. I envision working with other healthcare providers to help treat individuals with eating disorders or disordered eating. Some fellow graduate students and I are in the process of forming a weight stigma advocacy group called Students for Weight Inclusive Health. We hope that after we graduate this group will continue advocacy efforts into the future. I would like to continue my weight stigma advocacy work post-graduation, but I'm not sure what that looks like yet!
Questions about the Students for Weight Inclusive Health advocacy group may be directed to: mtblume@uw.edu
How would you describe your experience in the program?
What I have loved most about my experience is the public health focus. Although I desire to work directly with clients in a clinical setting, understanding health disparities and inequities at the community and systems levels is imperative to ensuring that my work as a future dietitian will be the most beneficial to my clients.
The small size of the program has also been a highlight for me. Throughout my experience, I have felt supported by my peers and faculty mentors. I truly admire their accomplishments and their brilliance, which both serve as inspiration to continue the lifelong learning process.
Tell us a fun fact about yourself.
I was a competitive gymnast as a young child. On a trip to Beijing for a gymnastics training camp, I did a handstand on the Great Wall of China! And, of course my parents snapped a photo of it.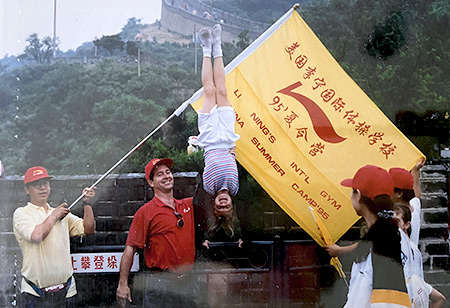 What do you like to do for fun in Seattle?
I love dining out in Seattle. I also love hosting and attending dinner parties. In the summer one of my favorite activities is floating the Yakima River.
What advice would you give a student considering graduate study in the UW Nutritional Sciences Program?
Absolutely connect with current or former students who can share their experiences in the program! Be ready to work hard, but don't forget that you are also a person in the world who has needs beyond being a graduate student. Trust that your experience in the program will be a great launchpad into life as a future nutrition professional. The Nutritional Sciences Program truly prepares students for a breadth of nutrition career paths in settings including clinical, community, public health, and policy.
---
Interested in studying nutrition as a graduate student? Explore our graduate study and RDN training options in the Nutritional Sciences Program.