About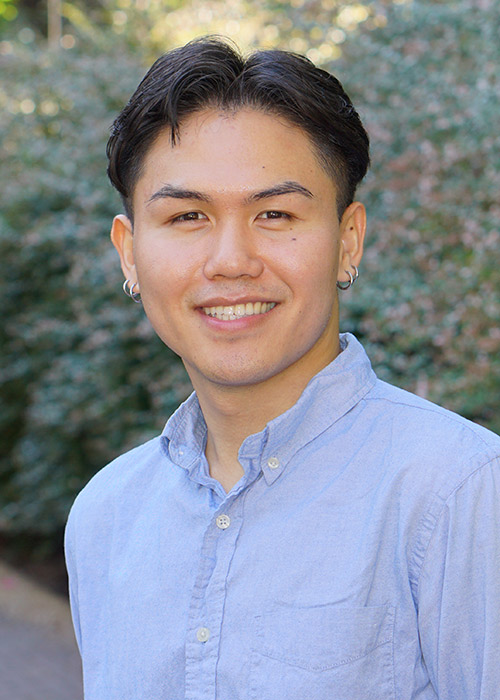 What influenced you to pursue a graduate degree in nutritional sciences?
My undergraduate degree in clinical nutrition from UC Davis was heavily concentrated on improving health outcomes in a clinical setting. During that time, I was involved in some public health nutrition part-time jobs and internships that set the course for my interest in improving population nutrition outcomes. For instance, I worked as a student nutrition coordinator for Student Health and Counseling Services on campus where I led cooking demonstrations and nutrition education workshops. I also managed social media for food access initiatives and spearheaded a community needs assessment about food security among students on residential meal plans. These experiences enabled me to reflect on how structural determinants of health influenced my health and the health of those around me. The mismatch in what I was learning and what I was interested in motivated me to pursue a Master of Public Health in Nutritional Sciences and continue my training towards becoming a Registered Dietitian.
Why did you choose to attend UW?
I initially applied to UW for its strong systems-focused nutrition curriculum and its connections to renowned healthcare facilities and King County and Washington's Public Health Department. The research interests of the program faculty also resonated with me, and I wanted a change of scenery from Southern California. The generous funding package from the Top Scholar award and excellent responsiveness from administrative staff during the onboarding process solidified this decision.
How do you see the importance of nutritional sciences in public health?
My immigrant parents expressed their love through food, and through their influence, I have since internalized that food is care. This sentiment has translated into my attitudes towards public health and nutrition. Food is central to our lives and yet food insecurity exists, disparities in diet-related chronic disease exists, eating disorders exist, along with a host of other nutrition-related issues in our current foodscape. I think our role as future public health nutrition professionals is to invest more in care and persuade others to care about nutrition and food-related issues throughout the food system, from production, to distribution, and to consumption.  
Tell us about your research or recent projects.
I am working with Michelle Averill and Cristen Harris on The Life Course Registry on How we Feed Ourselves and Why it Matters, which is intended to be a longitudinal study that investigates how daily hassles and life events affect eating, food, and body attitudes and behaviors. I compiled valid survey instruments and conducted focus groups to fine tune the first survey iteration. Although my work with them on this project is ending, the skills learned will remain for the rest of my career. I am incredibly grateful for the mentorship I received along the way, and I am excited to see the data that comes out of it.
What are your future goals?
Everything is on the table, except for clinical work! Throughout the classes I've taken here, I notice that I am most engaged in needs assessment and program evaluation work. I have also recently taken an interest in food policy, but the policy world is slightly daunting for me since that has never been my forte. I hope to combine my interests somehow with school meals, chronic diseases such as diabetes, food security, and weight stigma and fatphobia — with the goal of improving health for those most impacted by health disparities.
Outside of your studies, what activities do you enjoy?
I enjoy cooking for myself and loved ones, playing volleyball, drawing, trying new coffee and boba spots, and taking walks.
What do you enjoy most about living in Seattle?
As a broke and busy graduate student, I do not think I have given Seattle a fair shot yet. I think I would enjoy the city more if I were not entrenched in schoolwork and had a full-time income. That said, the best thing about Seattle so far has been the genuine, intelligent people I have met in the program. I do not think I could make it through this rigorous program without their support; it is a privilege to learn and work alongside them. I also love the nature and crisp air in Seattle which is hard to come by where I am from in Southern California.
What advice would you give a student who is considering graduate study with the UW Nutritional Sciences program?
Keep an open mind! I came into the program with a clear idea of what I wanted to do, but all of that has changed since I have been exposed to more sectors of public health nutrition. Being in the epicenter of public health research and practice, you will gain new insights, be challenged, and evolve as a future nutrition practitioner.