About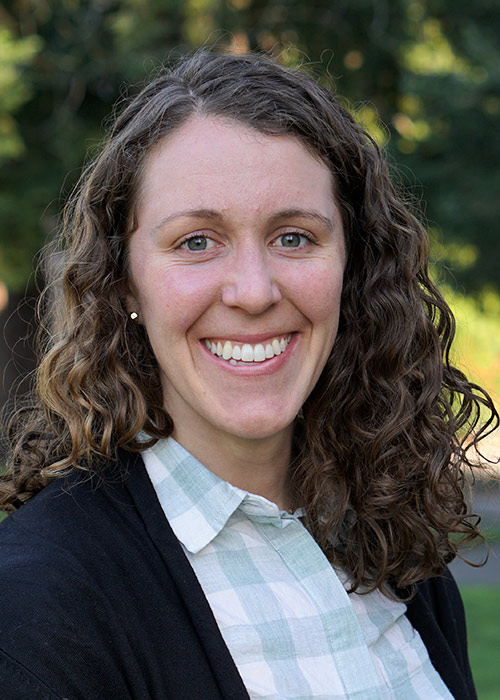 Why did you choose UW?
Several reasons drew me to the University of Washington Nutritional Sciences Program. These were:
The opportunity to attend a coordinated MPH/RDN program with rigorous evidence-based research and teaching.
The program's widespread connections with the greater Seattle community through practicum, fieldwork, and dietetic internship rotation placements.
Opportunities to work alongside faculty on various mixed methods research projects.
Opportunities to learn and teach alongside faculty as a teaching assistant for undergraduate courses.
The opportunity to move across the country from New York City to explore the Pacific Northwest!
What excites you about nutrition?
I volunteered with Edible Schoolyard NYC, and worked with FoodCorps New York and witnessed kids becoming engaged in healthy food. In these programs, children gain hands-on experiences such as planting a seed, harvesting the fruit, preparing a recipe, and eating an unfamiliar fruit or vegetable for the first time. It excites me to play a part in ensuring that all children have the opportunity to develop a healthy relationship with food starting from a young age, and to positively influence child growth, development, and overall health including the social and emotional connection with food.
What inspired you to pursue a Master of Public Health in Nutritional Science?
Prior to attending graduate school, I was a service member with FoodCorps, a nonprofit organization connecting low-income youth to healthy food in schools, in three public schools in New York City. This experience taught me how to work across diverse cultural and socioeconomic spectrums to identify and address risks to the nutritional health of children.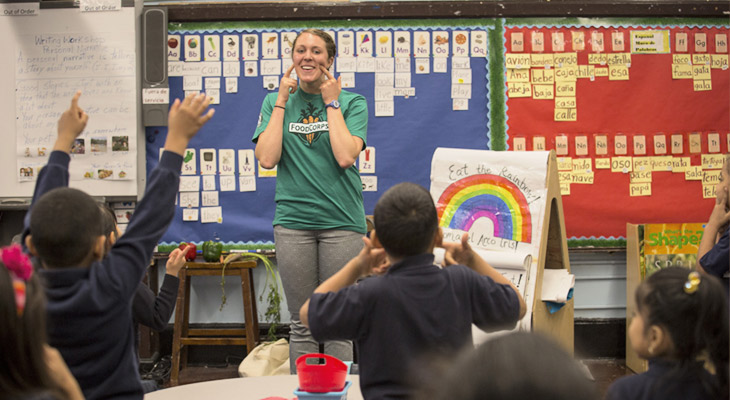 My time in schools developed my interest in teaching and I became aware of the importance of community-based participatory research within programmatic evaluation in schools in order to strengthen public health nutrition programs and policies.
I was inspired to pursue an MPH in Nutritional Science in order to expand my expertise by studying social determinants of health and nutrition's impact on child health and development, obtaining research design and analytical skills in nutrition epidemiology, and developing an interdisciplinary skill set of policy and program evaluation to implement effective public health nutrition interventions in community and school environments.
Tell us about your research work.
During my time at UW thus far, I have worked alongside Dr. Jessica Jones-Smith and her research team as a Research Assistant on the Seattle's sweetened beverage tax evaluation study. On that particular project, I helped to assess the qualitative impact of the tax on small stores, including the impact on Somali stores.
I also worked with Dr. Jones-Smith and Dr. Cristen Harris for my thesis and as a part of my work as a Maternal & Child Health Nutrition Leadership trainee, to assess the impact of the Healthy, Hunger-Free Kids Act policy implementation on child diet quality among participants in the National School Lunch Program. Working on this project gave me the opportunity to develop quantitative analyses skills and discover a passion and interest for using nationally representative data sets to evaluate programs and policies that affect national child feeding programs and those that affect outcomes on child health, behavior, and academic performance.
Read the findings from the study published in JAMA and featured by the UW School of Public Health.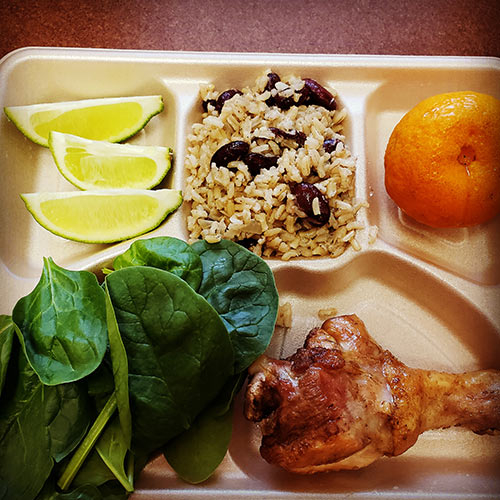 Also, as part of my practicum project with Highline Nutrition Services in Highline Public Schools, I worked with the district to develop social and emotional learning strategies to implement in the cafeteria space to foster a positive environment for all students and staff. My time with Highline Nutrition Services was invaluable. I learned about all the intricacies involved in the work of school food service management, and the multitude of hats you must wear, to efficiently and effectively serve over 20,000 meals each day to children.
In your first year, you also interned with PATH. Tell us about that.
In my community rotation during spring and summer quarters my first year, I interned on the Nutrition Innovation Team at PATH. The project was part of a grant with the Rockefeller Foundation. We worked alongside collaborators at the Bridge Collaborative, a small group of scientists and practitioners from Duke University, the Nature Conservancy, and the International Food Policy Research Institute.
The project goal was to assess the enabling environment for cultured milk and egg proteins in various geographic regions as a possible innovative solution to mitigate child malnutrition and reduce the environmental impact of animal source proteins in developing countries. This project gave me insight into the interworking of global non-profit work including grant and policy writing and priorities in the field of global maternal and child nutrition. Read the final report: PATH. Cultured Proteins: An Analysis of the Policy and Regulatory Environment in Selected Geographies
What area of nutrition do you envision pursuing after completing your degree?
I am committed to a career fostering generations of healthy children in schools through programmatic and policy evaluation work with the goal to increase food literacy programs in schools, strengthen school food policies and procurement practices, and implement more farm to school initiatives in all public schools.
How would you describe your experience in the program?
I have thoroughly enjoyed the past year and a half in the program! For me, I have loved the challenge and opportunity to learn everyday and build connections with colleagues in my cohort, UW faculty and staff, and community organizations working in the realm of public health nutrition.
Tell us a few fun facts about yourself.
You can find me in the kitchen cooking and baking. Expert tip: The way to endure the dark, rainy months in Seattle is to learn the process to make and bake sourdough. I enjoy testing out new recipes from my ever-growing cookbook collection.
What do you like to do for fun in Seattle?
I enjoy spending time outdoors which includes: hiking, biking, running, and swimming. And then of course, exploring all the amazing restaurants, bakeries, cafes, breweries, and food trucks in all the different Seattle neighborhoods.
What advice would you give a student considering the UW Nutritional Sciences Program?
The key advice I received from my mentors when I was choosing a graduate school was to reflect on what unique skill set I wanted to walk away with when I graduated with my MPH/RD. Expanding on the excellent advice I received from my mentors, my advice would be to take the time to diligently reflect on the 'why' and the 'what' you want to achieve and are passionate about. Why you want to attend the program, and what you want to walk away with when completing the program. Talk with program alumni, students, and faculty to gain additional insight and perspective to assess if the program fits your career goals, and you will also gain an accurate picture of what the program is like on a day-to-day basis!
---
Interested in studying nutrition as a graduate student? Explore our graduate study and RDN training offerings in the Nutritional Sciences Program.