About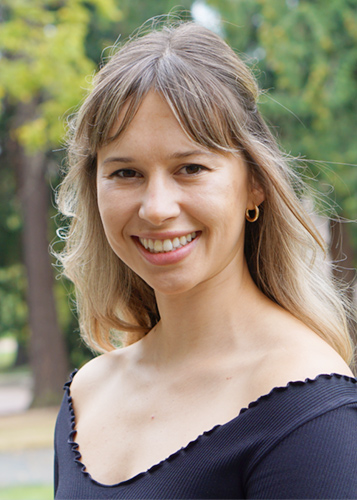 What influenced you to pursue a graduate degree in nutritional sciences?
I decided to pursue a graduate degree in nutritional sciences to broaden access to nutrition for people living with diet-related chronic disease. Prior to entering grad school, I worked in the biotech industry both in research and investing in novel medicines to treat chronic and rare diseases. Over time, I began to believe that nutrition was missing from many conversations around the treatment of disease.
Why did you choose to attend UW?
I value the rigor of nutritional sciences coursework which is why I am pursing the Master of Science degree. I also appreciate that the Nutritional Sciences Program is part of the UW School of Public Health. Understanding both clinical and public health aspects of nutrition has given me a well-rounded education and will make me a more informed dietitian. I also value UW's emphasis on diversity in the program and in practice.
How do you see the importance of nutritional sciences in public health?
I think on the surface nutritional sciences can be simply interpreted as the study of how diet connects to health and disease. Nutritional sciences also aims to capture cultural, economic, political, and psychological factors — all which impact public health and contribute to health inequities. Public health nutrition practice plays a significant role in assessing the intersection of these complex factors, which allow those working in the field to better understand the health of individuals and populations.
Tell us about your recent work in the program.
I worked as a research assistant with Dr. Cristen Harris conducting a secondary analysis of cross-sectional data assessing the relationship between the Satter Eating Competence model (ecSatter), gender identity, and eating behaviors in a student population. I presented our findings in 2022 at two industry conferences, the Washington State Academy of Nutrition and Dietetics (WSAND) and American Society for Nutrition (ASN), and I am currently preparing the manuscript for journal submission. I am also now working as a Nutrition Specialist at Opal Food and Body Wisdom, an eating disorder treatment center where I am developing and planning meals for the program.
What are your future goals?
One of the main reasons I entered this field was to help people develop healthy relationships with food, body, and exercise. One of my goals is to work with individuals in a clinical setting. Also, with my background in biotech, I remain interested in working at a nutrition or food business with a product that is informed by dietitians to positively influence people's relationship to health.
Outside of your studies, what activities do you enjoy?
Home cooking and spending time with my partner and friends. Depending on the season, I can also be found either playing tennis, paddleboarding, hiking, or snowboarding.
What do you enjoy most about living in Seattle?
Being surrounded by water and eating fresh seafood!
What advice would you give a student who is considering graduate study with the UW Nutritional Sciences program?
Deciding to transition careers was not an easy decision. But the academic experience and relationships I have made with professors and peers has made me confident in this path. If pursuing a career in nutrition has been in the back of your mind, just trust in yourself and the process — everything else will fall into place!
---
Are you interested in studying nutritional sciences as a graduate student? Explore graduate study and RDN training offerings in the UW Nutritional Sciences Program.