About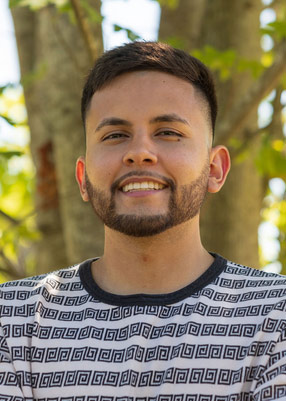 Why did you choose UW?
I have lived in Washington most of my life and since I was young, I knew that the UW was the university I wanted to attend. In middle school and early on in high school, I wasn't sure if my dream of attending UW would become a reality because of the track I was on at the time, and financial hurdles I had to face.
Fortunately, I found support from the Office of Minority Affairs & Diversity programs like Esperanza En Educacion (E.E.E.). After meeting Jaime Soto, director of the OMAD multicultural outreach team, I learned more about what UW had to offer I became more fascinated about the public health program and the different fundamentals and branches within it. I remember feeling overwhelmed and thinking it would be hard to navigate in such a large school with such a large population, but it became clear to me that UW professors, staff and advisers are always ready to help, and I was motivated to push forward. At the UW, I found additional support from UW Leadership Without Borders Center (LWB) and programs such as Purple Group.
How did you learn about the Food Systems, Nutrition, and Health Major, and what made you interested in applying?
In my first and second year at UW, I had planned to apply to Nursing school and minor in nutrition. After my nutrition course load expanded, I had the wonderful opportunity to meet some amazing professors and advisers within the Food Systems, Nutrition, and Health program who were very influential to me. Taking NUTR 302 Food Systems: Harvest to Health with Eli Wheat was not only a very interesting class but also a very enjoyable one as well. For once I felt passionate about a cause and felt like I had a future dedication. Conversations with Dr. Wheat after class inspired me to sit down and have a conversation with an adviser, and I decided to pursue and apply to become a Food Systems major.
How has your education background and experience prepared you for studying food systems?
I came into UW having a strong desire to help others and make an impactful change on the world in a broad way, but I was never sure how to execute. All my life I have lived in and experienced areas of cities that were "food swamps" which I thought needed adjustment within the food system. I've always felt that underserved communities of color, especially the youth, are more vulnerable to these unadjusted food systems. I wanted to do something for my community and the communities around me.
Having a strong background in sciences and math helped narrow my choices for what I wanted to do. I recall discussing the Food Systems major with my adviser and talking specifics about courses and prerequisites, as well as expansive and broad post-graduation opportunities. The involvement of chemistry principles and community engagement and were two key factors for me. I also had recent experiences working with Seattle Children's Research Institute, working and volunteering as a research assistant, which really helped me identify my long-term goal: to work in community-based research.
Since entering the program, have you learned anything that has surprised you?
Absolutely! Since entering this program, I have learned things that surprise me each and every day. For me, and I think most people in this program, learning to become a better person as a whole is a theme. In the program, you learn the fundamentals of nutrition and healthy living, but also take a deep dive into food systems, and how you as an individual can make changes in your own life every day to improve the food systems around you. Doing things like reducing your carbon footprint, reducing water waste, making better shopping choices such as choosing local or organic, and being informed about what is in our soils–things we don't normally consider! Many, if not all of these actions and skills I learned on the UW Farm firsthand.
What aspect of the program interests you most and why?
I am inspired to change lives and affect the communities around me, however I truly believe that there is no single aspect of the program that interests me more than another. The beauty of this program is that all aspects, topics and courses connect, whether it's food justice, environment, nutrition, policy or even statistics and economics.
What are your future goals?
After earning my bachelor's degree, I plan to apply to graduate school and pursue a Masters of Public Health in Social and Behavioral Sciences. Having the past opportunity to do research with Seattle Children's Research Institute, I hope to continue on this path post-graduation and pursue research. My goal is to have a career which focuses on community-based research that observes health disparities, promotes health education, nutrition, and health services for underserved communities of color.
What do you like to do for fun outside of class?
I love the outdoors but I can also be a bit of a homebody. I love hiking, watching movies, and trying new restaurants.
Share an interesting fact about yourself.
In 2018, one month prior to starting my sophomore year, I was diagnosed with epilepsy. Due to this unforeseen event, I was forced to postpone the start of my sophomore year. After receiving the diagnosis, facing a number of learning disabilities and curves along the way, I wasn't sure I would make it this far, but I am now more alive and determined than ever before.
What advice would you give prospective students considering a major in Food Systems, Nutrition, and Health?
I say go for it! One of the great benefits of this major is that coursework done is interdisciplinary. You will have many directions to explore and many routes available through coursework. Explore courses that interest you. One class I would highly recommend to everyone considering this major is NUTR 302 Food Systems: Harvest to Health. This class really gives you a deep understanding of what food systems really are, it gives you a strong foundation of all the aspects of what this major covers: food, culture, economics, environment, justice, labor, policy, and population health. For me, this course sparked a new passion for change.
The program staff in the School of Public Health are incredibly helpful, from the professors to the advisers. There are many resources and opportunities available to you in and out of class, such as job listings sent out weekly, and volunteer opportunities at the UW Farm and U-District Food Bank for great hands-on learning.