About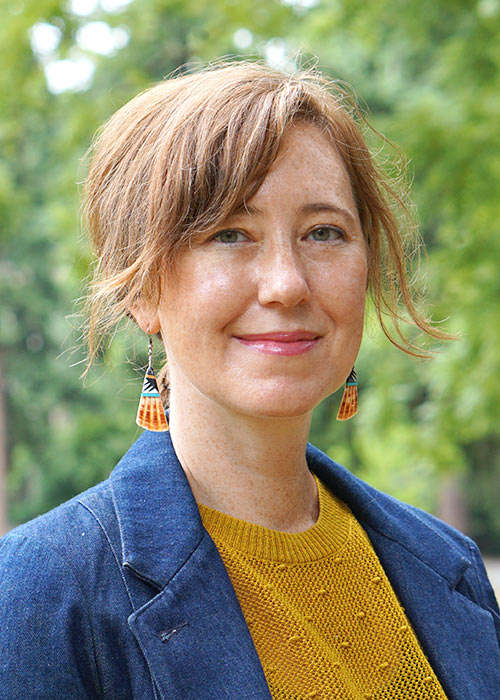 Finding passion points and public health pathways
While working as a dietitian in San Francisco, Jessica Jones-Smith noticed trends in how social, environmental and economic factors shaped people's food choices and, in effect, their health.
She worked with individuals who were suffering from heart disease and diabetes or who were trying to lose weight, and provided counseling on diet, food and nutrition. Her clients spanned the socioeconomic spectrum from those subsisting on government aid to company executives receiving the best employer-funded preventive health care.
"I was struck by the stark disparities in diet quality and health outcomes based on where people worked and lived and, especially, how much money they made," says Jones-Smith. She now investigates these patterns of nutrition-related health inequities as an associate professor of health services and epidemiology at the University of Washington School of Public Health. She holds a core faculty position in the Nutritional Sciences Program.
Jones-Smith is passionate about the impact of poverty on diet and obesity outcomes, and looks for opportunities to study the effects of poverty alleviation on health. Over four years, she took advantage of a rare natural experiment to study Native American-owned casinos as a positive income boost for the tribes.
By comparing health outcomes among Native American communities in California that opened or expanded casinos with those that did not, she assessed the degree to which this income boost resulted in changes in weight-related health. Among Native Americans, casinos reduced the prevalence of childhood obesity and babies born large for gestational age, a risk factor for being overweight later in life. An increase of five slot machines per capita reduced the likelihood of overweight infants by 9 percent.
Hunting solutions to health's silent predator
In her role as a strategic hire at the School, Jones-Smith leads efforts addressing obesity, food, physical activity and health. She started an interdisciplinary work group called the Collaborative on Obesity Research and Action, which brings together faculty from across the UW, as well as researchers from Seattle Children's Research Institute, Fred Hutchinson Cancer Research Center, the Veterans Administration and Kaiser Permanente Washington Research Institute. The goal is to foster collaboration and advance research to address the root causes of chronic diseases such as obesity.
"I think obesity is a disease often misunderstood by the public and academics as a condition resulting from a lack of discipline," she says. On the contrary, the science over the last 15 years has shown that obesity in our current environment is extremely difficult to prevent and nearly impossible to cure."
On an individual level, there is strong evidence that our bodies
respond to weight loss by slowing metabolism and creating intense
hunger, often compelling dieters to eat and regain lost pounds. On a
population-health level, economic factors and the food environment play major roles in the food choices we make.
"Between the time I was a kid and when I was providing advice as a dietitian, the food environment had changed dramatically," says
Jones-Smith, raised by a single mother outside of Chicago. She's
referring to changes in food prices, people's proximity to grocery
stores and restaurants, and the types of food available and accessible. "We ate baked chicken and canned green beans, and we definitely couldn't afford the processed dinners that have become so cheap over the last 30 years."
Today, the healthiest diets cost about $1.50 more per day than the least healthy diet, according to a 2013 study by Harvard researchers. What's more, the number of obese U.S. adults has reached an all-time high. "Solutions on the individual level are limited, particularly for people with limited resources. I was driven to public health, so I could create solutions that help those who are most vulnerable," she says.
Social determinants of obesity have since become constant themes for Jones-Smith. As a PhD student in nutritional epidemiology, she studied trends toward obesity in low- and middle-income countries, where folks were historically overburdened by malnutrition. She wondered whether low-income women in these countries would become disproportionately burdened by obesity, as they were in the U.S. In roughly a third of the 40 countries she examined, obesity prevalence had increased faster for women with the lowest income compared to those with the highest income.
Building connections to turn research into action
Joining the School in 2016, Jones-Smith says she "was recruited in a round-about way," after interviewing for a different faculty opportunity in the Nutritional Sciences Program. She was previously an assistant professor in human nutrition at Johns Hopkins School of Public Health for four years.
In an exciting new project, Jones-Smith will co-lead a study
of Seattle's soda tax, which took effect Jan. 1. Funded by the City of Seattle, the study will assess how the tax changes buying and drinking habits over the next few years. Research results could guide city decision-makers toward policy improvement. "I think we need to do a better job communicating positive and negative health impacts to policymakers, so they have the whole picture," she says. "Communicating with decision-makers is essential to translating scientific findings to action and to building evidence-based policy."
In another study with potential policy outcomes, she's working with a post-doctoral researcher, Vanessa Oddo, to understand how the negative economic shock of the recession may have influenced trends in obesity or weight gain. "I think a more robust social safety net could be important," she says. "During recessions, government programs could expand to meet the needs of people."
In a proposed grant, Jones-Smith plans to study how expansions to our social safety net might affect weight-related health for low-income populations.When she is not putting scientific puzzle pieces together,
Jones-Smith teaches Public Health Nutrition (NUTR 531), a core course for first-year master's students. The class explores systems thinking, life-course theory, and the social and economic determinants of disease. Students are also introduced to policy and program evaluation and community needs assessments.
Jones-Smith's counterpart, Mary Podrabsky, leads the practical part of the course. This year, students are evaluating the early implementation of a local program to promote the purchase of fruits and vegetables by SNAP (Supplemental Nutrition Assistance Program) clients through produce prescription programs.
"The student body at the School of Public Health is really impressive and a great asset to the UW," Jones-Smith says. "Health equity and social justice are prominent themes here."
Outside of work, Jones-Smith spends time with her husband, Damon
Burton, a ceramicist, and their dog, Roscoe. She enjoys discovering new restaurants, taste-testing fancy cocktails, and hanging out at pop-up markets around Seattle.
By Ashlie Chandler