About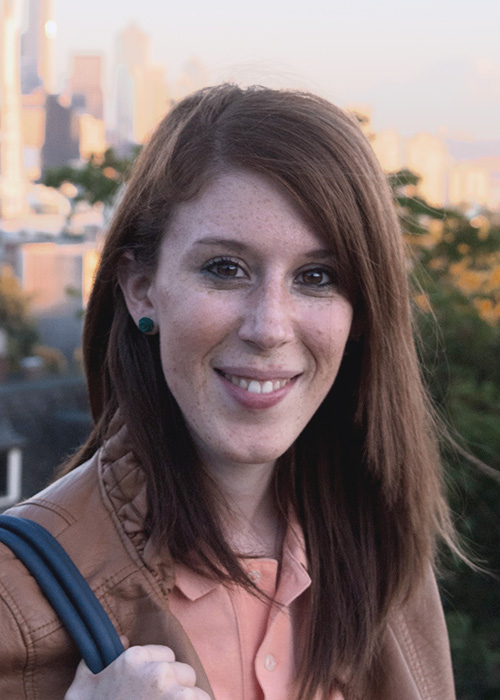 Why are you passionate about nutrition?
It's a composite result of the Italian culture I was born into, my degrees in Medical Biotechnology, my postgraduate studies in Human Nutrition and Dietetics, and my experience as both a nutrition biologist and researcher in Italy.
My interest in personalized medicine and people's disparate food-related preferences generated my desire to come to the UW to improve my nutrition counseling skills, while investigating health-related factors that account for individuality.
Why did you choose the UW for your graduate studies?
It's recognized as one of the premier research universities in the
United States. The Nutritional Sciences Program in the School of Public
Health represents a valuable learning and research experience on the way
food choices affect one's well-being and clinical outcomes.
Tell us about the work you are doing now.
After multiple positive experiences, such as working at Harborview
Medical Center and supporting a nutrition class at Seattle Reproductive
Medicine, I moved back to Italy. My decision allowed me to "import" all
the high-quality knowledge and skills I gained at the UW. Now, I work in
my private practice as a nutrition professional and researcher for a
famous Italian consortium that exports local dry-cured ham all over the
world. As an international affiliate of the American Academy of
Nutrition and Dietetics, I can stay connected with and learn from
nutrition experts around the world. It's exciting to look at dietetics
from a global perspective!
Tell us about your experience in private practice.
I provide tailored, evidence-based nutrition advice to individuals
about their health. My practice is centered around Medical Nutrition
Therapy, Motivational Interviewing and Mindful Eating. I help my
patients become a healthier version of themselves and make peace with
food, using the Mediterranean way of eating as a framework.
How did the Nutritional Sciences Program influence your career?
Thanks to the program, I own both U.S. and Italian credentials to
practice as a nutrition professional. The program broadened my knowledge
of clinical nutrition and medical research, allowing me to represent
the UW's unique excellence in Italy and Europe. I learned new ways to
study and communicate how food can improve people's health, how people
can feel well in their own bodies, and how to externalize preferences in
a social context. Moreover, the skills gained as teaching assistant and
through written and oral presentations strengthened my ability to
update individuals or groups on the links between human nutrition and
health.
What impact do you think you have had or hope to have?
I strongly value the positive impact of multidisciplinary cooperation
with other health professionals. For example, by working on a synergic
team of health professionals, I'm able to help patients in complex
clinical situations. Patients can accomplish connected interdisciplinary
goals, such as losing weight in order to be administered lower drug
doses. In the future, I would like to broaden my connections with the
food industry to promote the development of healthier versions of food
products and inspire consumers to make healthier choices through
evidence-based nutrition education materials. Finally, I hope to inspire
other dietitians and nutritionists to further their education abroad
and to advocate for the value they bring to the health care team.
What motivates you about the work you're doing?
Nutrition experts have the potential to ensure a world of healthier,
happier people and an environment that can nourish them appropriately. I
thrive on teaching and encouraging people to embrace a positive,
healthier lifestyle. When people's confidence builds, they feel better
and more productive.
I'm also motivated by nutrition research, which is active and
ongoing. I believe that conducting research, reading journal articles
and attending professional workshops and conferences will bring me
continued opportunity for growth.
What advice would you give prospective students of the program?
Never be afraid to do something that you've never done before. Look
for areas in current practice that need to be improved and use it to set
yourself apart from others. While learning, it's important to be kind
to those who are teaching. Find a mentor. I had Judy Simon as a mentor
and her specific career path represents exactly what I want to pursue. Last but least, networking is extremely important in the dietetic profession.
What do you like to do for fun?
I love cooking, biking, hiking, traveling and collecting magnets from
all over the world. I hope to visit my colleagues and friends in
Seattle soon! I definitely miss wild-caught salmon from the Pacific
Ocean, beautiful Lake Union and hikes in Washington state.