About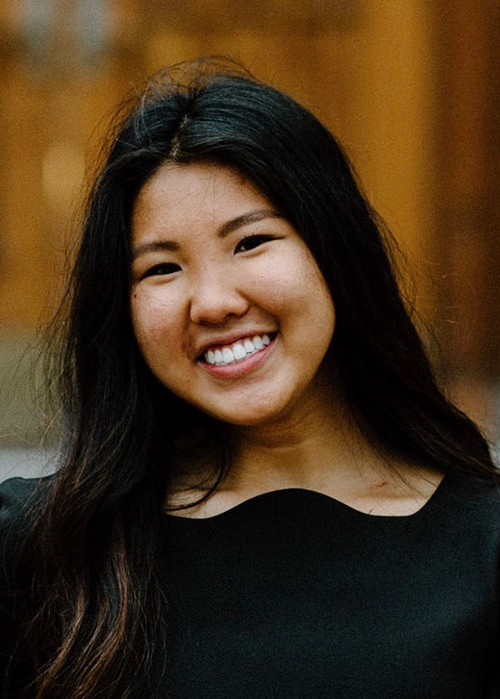 Esther Nguyen graduated from the University of Washington in 2020 with a major in Food Systems, Nutrition, and Health Major, and now works as a research assistant with the University of Washington School of Public Health in the Center for Public Health Nutrition. She is now preparing for graduate school while working as a research assistant at UW.
What are you working on now that relates to food systems, nutrition, or health?
I currently work as a research assistant on the WAFOOD project, a UW collaborative study led by Jennifer Otten and Adam Drewnowski, who are project leads and previous professors of mine. The research focuses on understanding the current state of food security in Washington State during the COVID-19 pandemic. We have published data on the first two waves of the survey conducted June – July 2020, and in December 2020– January 2021. We expect our third wave survey to begin in summer 2021. Research is something I want to continue to pursue as a master's student and I am so grateful for this opportunity to learn from the Center for Public Health Nutrition research team.
What's a day in the life in your role?
Our team meets weekly to discuss what's next on the priorities, and I often meet one on one with different members of the team. For example, I might work on community outreach, and social media planning one day, then another day work on researching county organizations, or design templates for our briefs. I am in charge of our project social media, creating visuals, templates and helping with presentations.
What do you enjoy about the work that you do?
I love that I am constantly learning new information from the study we are conducting. Working on with this team and on this project allowed me to see people's experience through the data we collect. The briefs we have published remind me how complex and resilient local foods systems are, and how much uncertainty current events, such as COVID-19, bring to food systems. I'm curious to explore food system resilience now, and in a few years from now from the impact of COVID-19. Secondly, the work I am involved with is something I believe will be used to help others in a positive way. One of my core values is giving back and helping others, and I want to make a positive impact in everything I do. Being on this team has given me a real taste for the field and allowed me to see what I like and what are limitations in academic research.
Something I continue to question and talk to close peers about is diversity in research. As the only member of the team from the Asia-Pacific (APAC) region, and with the state of current events as they are, asking questions from this perspective has been something at the front of my mind. As an APAC woman in the field of research, I aspire to help increase diversity and improve cultural humility within the field of nutrition and dietetics. There are many people I am so thankful to have met and been able to work with in this field, but I am excited to see the diversity of the field increase. I've always grown the most by learning from others' perspectives, and I believe there is something to learn from everyone I meet.
Tell us about any career highlights since you've graduated?
The WAFOOD project has been a highlight. I began working with the research team in May 2020 as I was finishing undergrad. I honestly could not have asked for a greater opportunity, especially with the current state of the world.
After graduation, I took a position as a diet technician at the Eating Recovery Center in Bellevue. Although I left that position to pursue post-baccalaureate courses and prepare for graduate school in nutrition and dietetics, I appreciated the experience working directly with patients.
How have you been able to apply your undergraduate study to the work you're doing now?
Even before I graduated, I was able to use skills and knowledge I learned after my first year in my major and apply them to the nutrition and lactation work I was doing while living in India in the summer of 2019.
I left my undergrad with a strong background understanding different aspects of nutrition and food systems, but the systems-thinking methods and public health lens has helped me see my work from different perspectives. NUTR 402, which I took with Sarah Collier, is a required class in the major and the class truly helped me understand the material I learned in the program in a new way. It gave me a certain lens I now use when approaching this research. It has helped me understand why certain questions are asked, the methods used in a study, and how each sector connects together. For example, how economy, individual health, agriculture, and restaurant industries influence one another.
I know I have a lot to learn to continue the work I am committed to, but the basis of the degree gave me a foundation to understand and ask questions in my current position. I was also able to build relationships with my professors and faculty members which has played a role in inspiring me to pursue the work I want to do in the future.
Do you have any hobbies or activities you engage in outside of work or school?
Yes! I love working out, going on runs, hiking and backpacking, playing the piano, attending music festivals, cooking, traveling, spending time with friends and family, and reading! Lately, one of my favorite things is to go on runs while listening to podcasts and audio books, and cooking different meals with friends!
What advice would you give to your past self, or other folks considering a similar career path?
Continue to ask questions about anything and everything, and to not be afraid to go for what you want! This position I hold now came from me setting up an individual zoom call with my capstone TA and asking questions about the research they are doing because I was genuinely curious about the work! I never thought something would come from it, and I am so thankful! I often find myself being afraid and nervous to ask for something and hold myself back from opportunities, but it's important to step out of your comfort zone to learn and grow! This is something I continue to work on and tell myself every day. Step out of your comfort zone. Go for it, you got this! And keep an open mind. Be open to new opportunities. Say thank you and be intentional with your relationships. I wouldn't be where I am without the people in my life!
What are your future plans?
I plan to apply to graduate school for fall 2022. I would like to get my Master of Public Health in Nutritional Sciences, as well as become a registered dietitian. After, I would love to pursue a PhD in Epidemiology and pursue work in the Nutrition Epi field. During these pursuits, I would also like to own my own startup or nonprofit one day. I have a few ideas in mind, but do not want to rush into something until I am ready.
I can't wait to continue to be challenged, work with and learn from others, and work in a field I am extremely passionate about. Before the pandemic, I was blessed with opportunities to travel abroad a few times a year. When the world returns to a safe, healthy state, I hope to continue traveling and gain more experiences abroad. Overall, I am excited to see what I get to do, the people I meet, and where I'll end up!
Related Links