About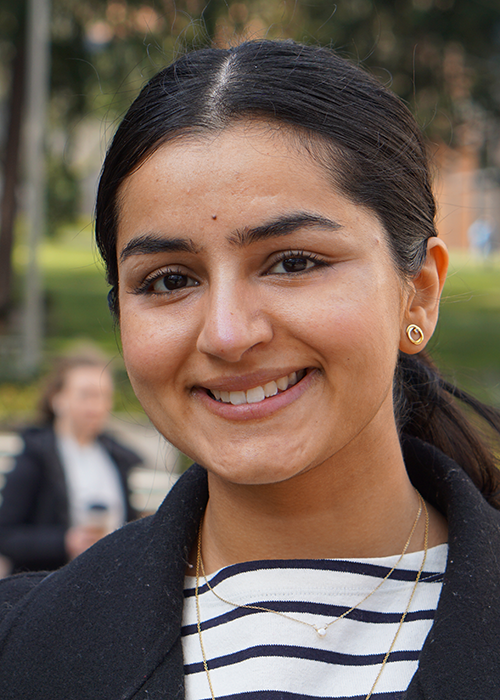 Why did you choose UW?
I chose UW because it is an excellent research institution and I wanted to surround myself with world-class innovation, inquiry, and brilliant people interested in public health. The reputation of the Graduate Coordinated Program in Dietetics (GCPD) was also a significant factor in my decision-making process. The GCPD program allows me to simultaneously pursue both a master's degree in public health and my dream to become a registered dietitian.
What influenced you to pursue your degree in nutrition?
My fondness for food and cooking is what led me to nutrition. Since I
was seven years old, I have been drawn to the kitchen. I was fascinated
that with a few uncomplicated steps my mother could transform simple
ingredients into an utterly distinct and delicious meal. She made
comforting and nourishing Punjabi meals and inspired by her love for
cooking, I have spent—and continue to spend—a lot of my free time in the
kitchen.
For me, nutrition is more than just understanding nutrients and what to eat to sustain your body. Food evokes feelings, it can provide healing. Furthermore, my program has given me a wider perspective. Now, I constantly see the socio-political, economic, and historical connections in everything we eat. Food provides a dynamic lens with which to view those connections. This lens can shape the way we design and build future systems.
What inspired you to pursue a Master of Public Health degree?
I have been drawn to food systems for some time, however my previous
expertise has been in marketing. I had a rewarding career working with
tech startups and organizations. My specialization was to help them grow
by creating loyal communities. I wanted to take my skills in
relationship building and marry them to my interest in food and
nutrition.
Furthermore, I want to help create and amplify the voices of those who are already creating a just and equitable food system. Pursuing a master's in public health at UW was the best way to bring these passions together.
What is the focus of your research?
The focus of my research is uncovering and understanding the importance of internationally coordinated food governance.
Tell us a few fun facts about yourself.
I introduced kids to cooking with farm fresh produce at the San Francisco's Ferry Plaza Farmer's Market at a program called Foodwise Kids. I fondly recall creating elaborate menus with groups of students using only fresh fruits and vegetables, their reaction of shock-and-awe after revealing to them that cinnamon comes from the bark of a tree, and their proud smiles as they presented their meals and served their classmates. Since Foodwise Kids, I have travelled a bit. I went gorilla trekking in Uganda to observe gorillas in their wild habitat. I went to Savoy in Tokyo, Japan to eat what David Chang says is the best pizza in the world, and spent four hours at a lace exhibit in the Rijksmuseum.
What do you like to do for fun in Seattle?
Drink coffee, of course! When time permits, I enjoy going on long urban hikes in Seattle because I still have so much of the city left to see. Seattle is particularly beautiful in the spring when all the neighborhoods are covered in spring blossoms.
What are your future goals?
In the short term, I would like to work clinically in some capacity and then move in to a more food-policy focused role with an interest in helping making food systems more just, equitable, and sustainable.
How would you describe your experience in the program?
In short, it has been incredible. I absolutely love devoting my time in the pursuit of knowledge and analysis of food and nutrition. The faculty are awe-inspiring. Our professors and course instructors are passionate about their topics and student learning matters to them. Additionally, I get to work with and learn alongside a cohort of astute, compassionate, and curious students.
Thanks to the program I have made wonderful new friendships with
people who share my interests. Earlier this year we rallied together a
group of graduate students to help start the Food Systems Coalition. We
are currently working with the program to help design the fall nutrition
seminar series, writing a white paper on state-based food assistance,
and meeting weekly to discuss food systems topics of note and interest.
Contact the Food Systems Coalition: foodcoal@uw.edu