About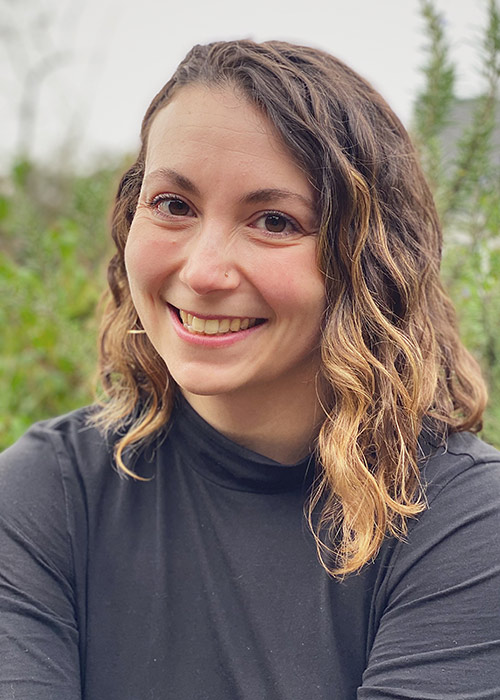 This profile was originally published in 2021. Learn more about what Dani is doing now in a more recent alumni spotlight published in 2022.
---
What influenced you to pursue a degree in nutrition sciences?
I took a bit of a winding road to nutrition. As an undergrad at UW working toward my bachelor's degree, my initial interests were in the environment and addressing the current climate crisis. I pivoted to economics, because as market forces are much larger than individual actions, I thought there might be some answers in that field. Along the way, I took a class on food systems taught by associate professor Jennifer Otten, and was absolutely blown away. While I knew that agriculture and diet influenced the environment, I had been naïve in understanding how many different aspects of life our food system linked.
I had always had a personal interest in nutrition and love of food, so as an undergrad, I continued to explore this. I took other courses by Dr. Otten, as well as offerings taught by Dr. Liz Kirk and Dr. Adam Drewnowski. At the same time, I was also on my own personal health journey and was working with a registered dietitian. All of these experiences contributed to my decision to dive into, food, nutrition, and dietetics.
Why did you choose UW?
I have a dual love for clinical nutrition and public health. I knew by choosing UW, I would receive an evidence-based nutrition education that would challenge and develop my critical thinking skills. In addition, I was drawn to the fact that the Nutritional Sciences Program is housed in the School of Public Health. While nutrition can have a powerful influence on individual health, the role of a dietitian must expand further. Dietitians and healthcare professionals alike need to understand the systemic forces at play that are placing an undue burden of ill-health on many people in this country. I knew that the UW program would help me become the type of dietitian that can provide strong individual care while also addressing systemic challenges, thereby making access to nutrition and healthcare in general more accessible for all people.
What specifically about UW's graduate program appealed to you?
I was drawn to the small size of the cohorts at UW. I had a feeling–which turned out to be correct–that I would be surrounded by inspiring and supportive peers. The small class size has offered me the opportunity to build strong professional relationships and friendships with my wonderful cohort, and other cohorts as well.
I was also drawn by the program faculty. There is so much exciting and meaningful research happening here, and it has been a unique privilege to learn from the wonderful and supportive faculty members at UW.
What kind of research or internship are you doing?
I am currently completing my clinical rotation at Harborview Medical Center as an inpatient dietetic intern. In the spring, I will work with Seattle Children's Hospital focusing on pediatric nutrition care. As someone completely new to the clinical world, I am excited to have the opportunity to intern at two excellent medical centers. My thesis research focuses on small, direct farms in Washington State, and how they have been impacted by and adapted to the COVID-19 pandemic.
Tell us a little more about your thesis work with WA farms.
The project includes interviews and surveys of farmers, ranchers, agricultural service providers, and other stakeholders. The project team is seeking to better-understand the impacts of the COVID-19 pandemic on farms and ranches in Washington State, and the capacity of farm businesses to adapt to the disruption. I conducted interviews with 15 farmers to hear from them directly about their farm's experience during the pandemic. I am currently analyzing the results and plan to publish a report this spring.
More on this project: Assessing Resilience in Washington Agriculture: Impacts of COVID-19 on Farms and Ranches
How would you describe the benefits of your research, or how it may potentially impact public health?
Most of the farms in Washington state are classified as small and have historically been an underrepresented and underserved portion of the Washington agriculture community. Our project seeks to better understand how these small farms fared during the pandemic so they can receive adequate support now and in the future.
Another goal of the research is to evaluate if and how small farms in our state contribute to a resilient food system. By examining attributes that contributed to successes of small farms during the pandemic, there is significant learning potential. Other farms or other parts of the food system could look to those who fared well, and adapt their own practices based on qualities, attributes, or facilitators that contributed to that success. Ideally, insight gained from this research can be used to advocate for policies that support food systems that care for the earth, its workers, and consumers.
What are your future goals?
My goals as a future dietitian are ever evolving as I continue to learn. Right now, I envision myself working in a clinical position as either an inpatient or outpatient dietitian. The beauty of this field is that there are so many possibilities open to me. I took all my prerequisites for this program at Bellevue College, and had such a wonderful experience that I've also considered teaching, possibly at a community or city college. Whatever path I choose, my personal goal is to continue to advocate for social justice within food and healthcare systems.
What extracurricular activities do you enjoy?
I am a native to the Seattle area, and as such, I enjoy drinking coffee and going on hikes. I also enjoy cooking, but more so eating, and both of those things along side friends and family.
What do you like most about living in Seattle?
Proximity to the spectacular coffee and hikes, of course. And my family and friends.
Tell us a fun fact about yourself
My favorite wildflower is bear grass, and few things fill me with as much joy as seeing a field of them in bloom.
What advice would you give a student who is considering graduate study with the UW Nutritional Sciences program?
Reflect on the type of education you'd like to pursue. This program is rigorous and fast-paced but has ticked all the boxes I was looking for: a strong foundation of clinical nutrition, a strong public health lens with a focus on anti-racism and social justice, a small cohort of inspiring peers, and strong relationships with faculty and staff. Everyone I've interacted with in this program has been incredibly supportive. If you're interested in this program and have questions I recommend connecting with faculty or a current or former student.
---
Interested in studying nutrition as a graduate student? Explore our graduate study and RDN training offerings in the Nutritional Sciences Program.