About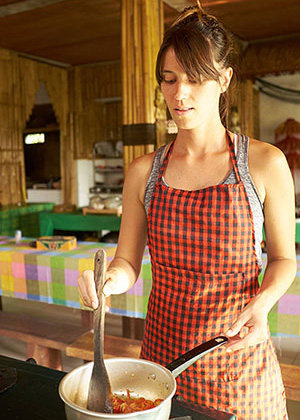 What did you do before you went into nutrition?
I'm from a small rural town on New Hampshire's seacoast. Growing up
there, the extent of my career knowledge was limited to being things
like a doctor, teacher, veterinarian, or astronaut. When I started
college at McGill in Montreal, I didn't see a clear career path, and I
didn't want to be any of those things. So, I took a break to figure out
what other opportunities existed in the world. During that time, I met a
lot of personal goals and incidentally became good at something I never
intended as a career –working in hospitality. It was a pivotal moment
in my life, and I decided to go back to school.
How did you get into public health and nutrition?
One thing I knew was that if I only had one life to dedicate a career to, I wanted it to be one where I help people. I also knew I loved food. When I was stressed, I would cook and bring it to work to share. I think of food as medicine and as nurturing, and I believe firmly that everybody has a basic right to healthy food. Initially, I returned to school as an EcoGastronomy Major in New Hampshire. The program required a dual major, so I coupled it with Nutrition and fell in love. I ended up transferring and finishing a Nutritional Sciences B.A. at California State University – Los Angeles. There, I was able to broaden my experience with people from all walks of life, both culturally and socioeconomically, which I knew would be beneficial for working at the systems level. Becoming a dietitian would give me the credibility to be a nutrition voice in food and public health at the system level where that voice is often underrepresented.
A lot of dietetic education is focused on one- on-one clinical
counseling. When you take a step back, you can see that clients need
things like higher wages, affordable access to fruits and vegetables,
and education –-that there are bigger external factors affecting
people's food choices. Becoming a dietitian would give me the
credibility to be a nutrition voice in food and public health at the
system level where that voice is often underrepresented.
Why did you choose UW's program?
It was my "reach school." The UW School of Public Health is a top
school in the United States. The combined internship and master's in
the Graduate Coordinated Program in Dietetics
was a big draw, and an MPH option in nutrition is unique. I loved the
idea of going to the Pacific Northwest. I was able to make the move
financially thanks to the UW's Top Scholar Award.
What was the program experience for you?
The Nutritional Sciences Program experience was phenomenal,
formative, and challenging. My cohort was so close and supportive. In
the real world if you're working in public health or nutrition, you are
part of a group of people that you rely on, and everybody is important.
The program does a really good job of creating cohesion. As part of my
work with Dr. Otten,
I did qualitative analysis spun off from the City of Seattle's Food
Waste Assessment and Recovery Report. This project looked at the state
and local level in food waste. The science on this is emerging and it
was exciting to publish.
The dietetics internship was also key, I was able to create a strong
network and to demonstrate my experience. I even worked on the same
initiatives and was a known entity when I went to work for Washington
State. The program went above and beyond to create opportunities for me
going into policy. They helped me be my best.
What do you do in your role now?
I am a Nutrition Coordinator at the Washington State Department of
Health in their Healthy Eating, Active Living Program. I work on
statewide projects related to nutrition, including promoting nutrition
and physical activity in early learning, and improving healthy food
options in community settings, correctional facilities, and state agency
buildings. I also focus on improving nutrition environments for
priority populations, and I serve as a nutrition voice for state-level
work (e.g. the employee wellness program, state health insurance
incentives).
Don't ever be afraid to start over. The time you put in for education for something you love is never wasted.
At the state level you can bring together many voices by coalition to
solve system-level problems. It's one of the most direct ways to change
food environments. Recently, I had the opportunity to revise an
existing Executive Order (Order 13-06)
which created nutrition guidelines for food offered on state agency
property. That I could participate in writing policy and it could
actually become law is mind-blowing — that I was able to bridge
consensus among stakeholders in my first three months on the job was
equally exciting.
What advice would you give to students considering a similar career path?
Don't ever be afraid to start over. The time you put in for education for something you love is never wasted. Sometimes the things you feel were setbacks can actually be to your advantage.
Other extracurricular activities?
My husband and I love being outdoors and the access to it here is
unparalleled! I love being a tourist in my own city. A couple weekends
ago we went to Whidbey Island for whale watching and dinner. It's fun to
keep exploring. I also love cooking and gardening. We converted a weed
patch in our apartment complex to an edible garden and ended up with
more food then we know what to do with. We invite our neighbors to take
what they like during the summer.
Tell us a fun fact about yourself.
Author Dan Brown was my Spanish teacher in Junior High, years before
he published the book Da Vinci Code. In class, he used to tell us all
about anti-matter, the illuminati and other fun facts he was researching
for his novels. We only studied Spanish about half the time, but I
learned so much!