About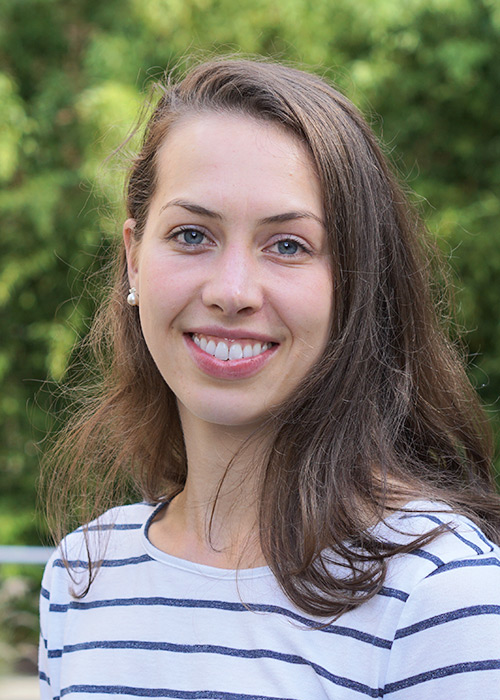 This profile was originally published in 2019. Learn more about what Anna is doing now in a more recent alumni spotlight published in 2022.
---
Why did you choose UW?
UW is unique in that it is one of the few schools to offer a Master of Public Health degree with concurrent dietetics training. I love the combination of public health and clinical training provided by the GCPD because it equips students to work in multiple job settings upon program completion. I was drawn to this versatility and could tell that the UW Nutritional Sciences faculty and staff were dedicated to supporting students on any chosen path.
What influenced you to pursue your degree in nutrition?
Prior to the UW, I studied neuroscience at Emory University, thinking that I wanted to work in the medical field. Throughout my undergraduate experience, I developed a personal passion for nutrition that ultimately motivated me to shift my career aspirations and return to school. Though my initial draw to this field was sparked by a personal interest in healthy eating and helping others understand the importance of nutrition, I have since gained such a great awareness of the many barriers that people face to accessing nutritious food.
Now, I am driven by a heightened understanding of the social, economic, political, and environmental factors that shape people's lives and influence what nutrition means for different communities. To me, this field is constantly expanding and there is always more to learn.
What inspired you to pursue an MPH with RDN training?
Immediately prior to graduate school, I was working as a research program coordinator on a longitudinal study investigating risk factors associated with the development of subclinical cardiovascular disease. When working with participants during the clinic exam, it became increasingly apparent that basic nutrition was a large source of confusion. I quickly began to connect the dots as I witnessed the fundamental role that nutrition plays in overall health and realized the power of this field. Ultimately, I opted to pursue an MPH because I recognized nutrition as a lever for population-level change and health promotion.
Tell us about your research and/or practice?
During my first year at the UW, I worked as a research assistant and had the opportunity to support Dr. Michelle Averill's work on an interprofessional team examining the potential integration of healthy lifestyle promotion into a pediatric dental setting. In thinking about this, we became curious about how other health care providers might perceive the role of dentists in nutrition-related, weight-related, or general healthy lifestyle conversations. From a dietetics perspective, we understand weight and dietary habits as complex topics that are frequently not a matter of personal choice.
These are sensitive topics, and there is evidence to suggest potential harms associated with healthy lifestyle advice and weight-related conversations if not conducted with utmost care. Therefore, I am investigating how registered dietitians perceive the role of dental care providers in healthy lifestyle promotion for children, with an ultimate goal of determining best practice recommendations for dentists seeking to engage in nutrition-related conversations and to identify opportunities to build positive interprofessional relationships.
How would you describe your experience in the program?
My experience has been extremely fulfilling thus far. I entered this program with a relatively undefined career path and have received continuous encouragement to pursue different interests and take time to explore. Our classes are built on evidence-based nutrition, incorporating both current research and clinical experience to guide our learning. From public health coursework to clinical training, we truly get the best of both worlds. The small size of the program also creates a sense of intimacy that I have found to be extremely beneficial. It has provided a great opportunity to build close relationships with peers and receive mentorship from faculty.
What are your future goals?
My future goals are a constant work in progress. I ultimately hope to engage in work that utilizes a policy, systems, and environmental change approach to address barriers to nutritional adequacy and health. Throughout the next year, I hope to solidify exactly what that might entail through the MPH practicum and the supervised practice experience.
You interned with PATH. What was your experience like?
I interned with the Nutrition Innovation team of PATH's Maternal, Newborn, Child Health and Nutrition Program to characterize the nutritional quality of various plant proteins and explore their potential to help meet the nutritional needs of children under age 5 in low- and middle-income countries. My work supported PATH's efforts to explore the extent to which alternative proteins may help support global nutrition in a more environmentally sustainable manner than protein provided by animal-source foods.
Entering into this internship, I did not have extensive background knowledge in global health, so my work at PATH provided an opportunity to study global nutritional concerns and expand upon concepts that I had learned in the classroom thus far. It was fascinating to explore the intersection of human health, nutrition, and climate. It was an excellent opportunity to expand my nutritional knowledge, strengthen my scientific writing skills, and practice professional communication.
After being in the classroom for the past year, it was extremely valuable to be thrown into a fast-paced professional setting to remind me how to practically apply the knowledge that I have gained this past year. I'm grateful for the mentorship and guidance that I received from the Nutrition Innovation team along the way, as they set high expectations, yet allowed substantial independence on the overall project.
Tell us a fun fact about yourself.
I always struggle when I am asked this question. Does that count as a fun fact? I guess something that most people don't know about me is that I love to sing. I grew up singing in choirs and then sang in an a cappella group in college, though I'm always hesitant to share this fact because I get embarrassed when I have to sing in front of people that I know!
What do you like to do for fun in Seattle?
Prior to Visit Day last year, I had never been to Seattle or even the Pacific Northwest. Once I moved here, I knew I had come to the right place. I enjoy going for hikes and walking in neighborhood parks – anything to get moving and spend time outdoors! Coming from a pretty rural area, I'm still in awe of all the city has to offer, especially the walkability. I love exploring the food scene, popping into local coffee shops, and strolling through the weekend farmers market for flowers, fruits and veggies, and of course a freshly baked sweet treat!
What advice would you give a student considering the UW Nutritional Sciences Program?
Connect with a current or former student to chat about their experience. This is one of the best ways to get a feel for what your life would actually look like as a student in this program. It is rigorous, fast-paced, and demanding, but worth every moment! As a student at the UW, you will develop close relationships with your classmates and the faculty, so don't be afraid to start this process early. Reach out with questions or concerns throughout your decision process and know that you would be fully supported in achieving your unique goals as a student in the Nutritional Sciences Program.