News & Events
UW Food Systems Walking Tour Highlights
Many thanks to all the UW Huskies who joined us October 1, 2021 for our UW Food Systems Walking Tour!
The tour, organized by the Nutritional Sciences Program's Student and Academic Services team, explored the University of Washington's food system and was a featured activity as part of the 2021 Autumn Dawg Daze events.
Tour Highlights
This video shares a few excerpts of the key stops on the tour including the UW Medicinal Herb Garden, Mercer Court UW Farm site, and outside the UW Food Pantry.
The tour covered a lot of ground, starting with Eli Wheat explaining the history of the UW Medicinal Herb Garden, once used by UW Medicine and UW Pharmacy programs to harvest herbs for medicine.
Participants were asked to consider types of food that could also be a medicine, or if eaten too much could also be considered a poison.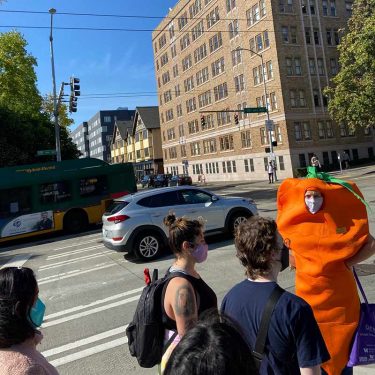 Many of the aquatic plants in the Medicinal Herb Garden can be edible such as the high protein aquatic fern, Azolla. Aquatic ferns and their symbiotic relationship with nitrogen-fixing bacteria were also highlighted.
UW Farm Manager Perry Acworth and Research Coordinator Alan Ismach provided a tour of the Mercer Court site of the UW Farm and explained how and why the site is considered an urban farm. Acworth also shared how the farm is run, how it provides opportunities for students to work on the farm, and where the produce goes when it's harvested. The UW Farm's Community Supported Agriculture (CSAs) were expanded significantly to serve more people as a result of COVID-19.
UW Manager of Student Success Sean Ferris provided an introduction to the UW Food Pantry and how it is addressing food insecurity impacting UW students, including how the Food Pantry fits within the UW food system, how students access food, and how they are working to reduce stigma and barriers for those visiting the Pantry.
October 7, 2021