News & Events
UW course explores sustainable food systems for population health
A course offered by the Nutritional Sciences Program in the School of Public Health will use food systems as a lens for viewing and understanding public health principles in spring quarter 2022.
The course, NUTR 514 Sustainable Food Systems for Population Health which is a 3-credit elective course, is now open for registration to all graduate and professional students at the UW.
This course introduces students to:
the connections between food systems and public health, including issues related to the determinants of health, food production and supply chains, food access and environments, and the bidirectional relationship between dietary intake and food systems;
how food systems in the US and in global settings have changed over time and the evolution of public health approaches to food systems;
the tools of systems thinking to examine food systems, including an assessment of various stakeholders, their priorities, and dynamic interactions within the system;
the multifaceted nature of sustainability as it relates to food systems, including the intersections between food systems and sustainability, resilience, equity, and justice.
This course also introduces students to roles and opportunities for different public health disciplines and practitioners in shaping the food system and is ideal for graduate students in the School of Public Health, as well as any UW student looking for an elective providing foundational competency in the areas of public health.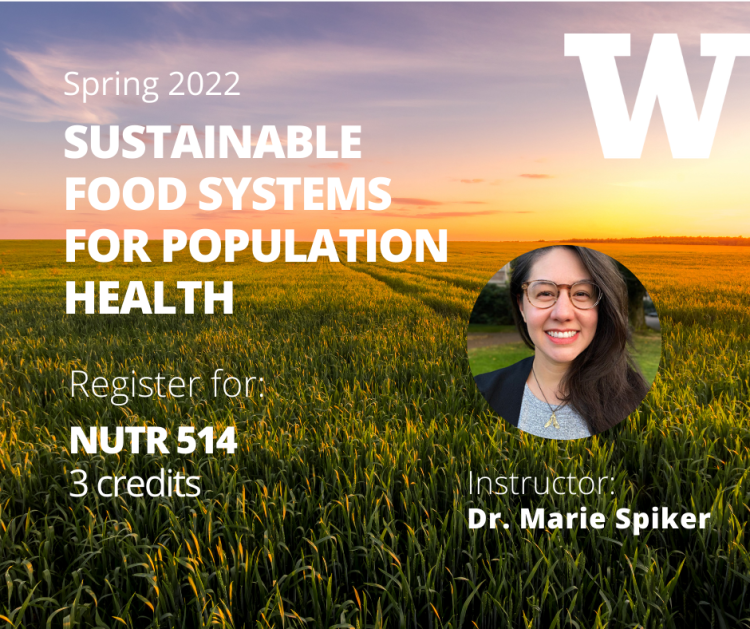 Course Details
Register for:
NUTR 514 SUSTAINABLE FOOD SYSTEMS FOR POPULATION HEALTH
Credits: 3
SLN: 18148
Meets: MW 10:00 a.m. -11:20 a.m.
---
About the Instructor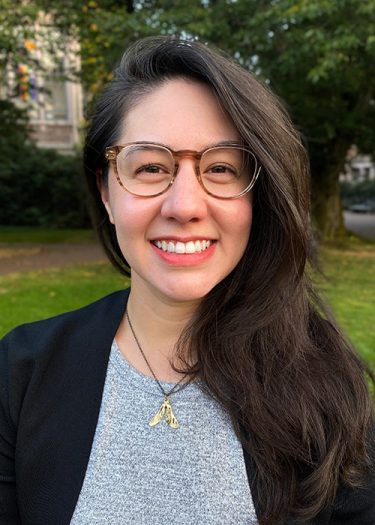 NUTR 514 Food Systems and Population Health is taught by Marie Spiker, a core faculty and food systems expert in the Nutritional Sciences Program in the UW School of Public Health, and an assistant professor in epidemiology.
Dr. Marie Spiker approaches public health nutrition research through a food systems lens that recognizes the need for transdisciplinary and multisectoral collaboration.
Dr. Spiker's research interests include public health nutrition, sustainable food systems, food loss and waste, value chains for nutrition, systems modeling of food supply chains, and capacity building within nutrition and public health. To explore these topics, she draws from training in quantitative and qualitative methods and systems science, as well as her training as a registered dietitian nutritionist. Her professional practice experience includes work with municipal food policy and capacity building within the profession of nutrition and dietetics.
February 22, 2022