News & Events
Undergraduate student scholarships for 2020-2021
Congratulations to our 2020-21 undergraduate scholarship recipients supported by the Food Systems, Nutrition & Health Major Fund, established by dedicated alumni and friends to ensure the Food Systems major thrives in its early years.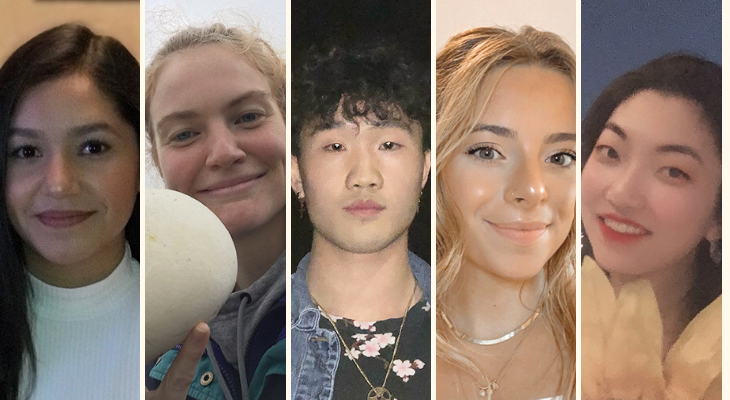 Our outstanding recipients for this academic year were selected for their excellent academic achievement, dedication to community service and extracurricular activities, professional promise, and their ability to overcome challenges.
These awards prioritize support of students from diverse backgrounds and those who have overcome economic and educational disadvantages and/or personal adversity to pursue higher education.
Jessica Garnica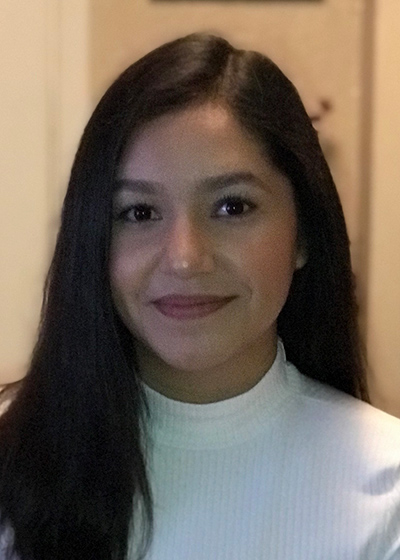 Jessica Garnica is a first-generation student at the University of Washington and is studying Food Systems, Nutrition and Health. She is the proud daughter of Mexican-immigrant parents who she credits in giving her the gift of pursuing a higher education. Her parents relied heavily on Food Stamps and WIC programs to meet their family's nutritional needs since the income coming into our household was not sufficient to afford health nutritious food. This was even more difficult to see because they work within the food system itself.
"Coming from a Mexican immigrant family and knowing individuals who are undocumented, I have seen and experienced the inhumanity depicted within our health care system and food system today. Growing up, my parents worked in an agricultural setting where their work involved repetitive motions, heavy lifting and chemical exposures," says Garnica.
"They labored long hours under extreme weather conditions with short or sometimes no breaks just to support my family under a constant worry about becoming injured or ill. When someone in my family got sick, the lack of health insurance, primary care doctors and regular check-ups meant that we depended on the services of a local free clinic, or homemade remedies."
These experiences and the community in which Garnica grew up influenced her to seek a degree in public health. "In the future I hope to become a health promoter and educator to travel to under developing communities and countries to educate them on nutrition and health, and conduct my own research within food policies and labor rights to better labor conditions within our food system. I hope to become an activist to speak up and fight for all communities to have equal opportunities to prosper, and eliminate the injustices occurring within both systems."
Nikki Hogan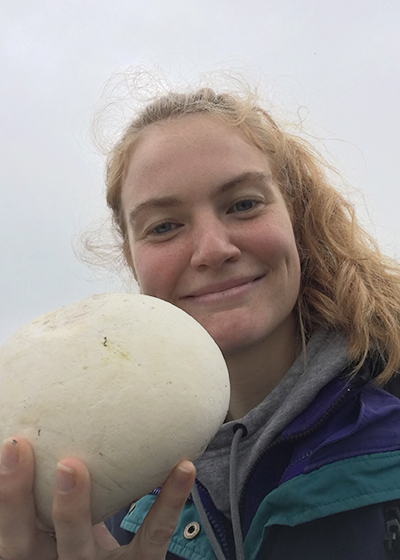 Nikki Hogan is a senior at the University of Washington studying Food Systems, Nutrition, and Health and Environmental Science and Resource Management, and is also pursuing a minor in Environmental Studies. She is excited to apply the knowledge she's gained at the UW, and from her time abroad when she studied in Copenhagen, Denmark for five months throughout autumn quarter 2019. This experience fueled her enthusiasm for many aspects within the food system, particularly in the cultivation and harvest and waste reduction and diversion sectors.
"I came back to the UW classrooms with even more excitement for pursuing my studies and a new Danish lens through which to view it," says Hogan. She spent spring of 2020, the early months of the pandemic, interning at Sherrett Food Forest in Portland, Oregon. During this internship, she learned about permaculture principles and applications, local food systems, and the ability to successfully grow food in unexpected spaces—such as backyards or empty lots in the city. "Over the summer of 2020, I spent my time in a local kombucha brewery in Seattle where I learned about the principles making traditional kombucha from sustainable, organic, and biodynamic ingredients. In addition to brewing, I was bottling, washing and working on mini-projects such as monitoring the total acidity of Old Mothers."
During her last year at UW, she is deciding what career path to follow after graduation. "I'm still keeping my mind open to the possibilities! I plan to use my last three quarters to explore Food System Nutrition and Health elective courses as a way to brainstorm my future career. I am incredibly thankful for this scholarship. With these funds, I can focus my attention on schoolwork and dedicate time to finding my purpose after graduation. This is especially helpful during the challenging and uncertain times of the current pandemic."
Brian Le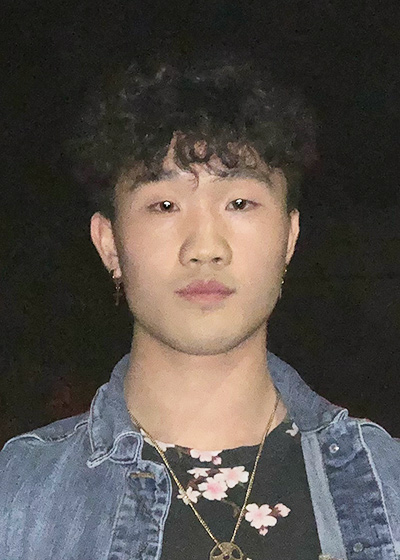 Brian Le is a senior at the University of Washington studying Food Systems, Nutrition, and Health, with a second major in Economics. "I am a first generation college student. Neither of my parents finished college so I have made it a personal goal to graduate and succeed in my career either as a dietitian nutritionist or a data analyst, says Le. Le is passionate about sports and lifting and played football and ran track in high school, and is now training and competing in powerlifting in the 66kg/145 pound weight class. He has won two Washington State Championships in lifting in 2018 and 2020, and placed 2nd at the prestigious Raw Nationals meet in his weight and age group in 2018. He currently holds numerous state records and was the 2019 Regionals Champ in the most reputable and drug tested federation in the world (USAPL). Le's knowledge and dedication to fitness has influenced his academic interests, and hopes to combine his knowledge of fitness, food systems, and helping people as a dietitian. Le says, "As an Asian American who was in a predominantly caucasian demographic on the east side, and experienced all types of stereotypes, I take pride in what I have accomplished, and how hard I've worked. It is a personal goal for me to excel both academically and in athletics to increase visibility for Asian Americans in high level competitions and sports in general."
Chase Raines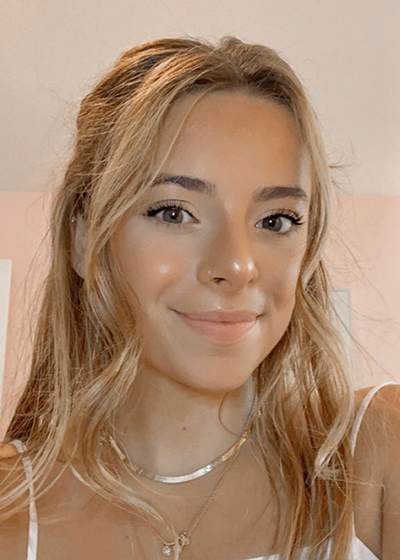 Chase Raines is a senior at the University of Washington studying Food Systems, Nutrition, and Health with plans to graduate in 2021. "My specific area of interest is to provide care for underprivileged children who have had barriers to food access," says Raines. After earning her undergraduate degree at UW in nutritional sciences, Raines plans to pursue an accelerated nursing degree, combining nursing and her nutrition education expertise in a healthcare setting, specifically within pediatrics.
Nutrition and athletics were of primary importance to Raines growing up as a long distance swimmer competing in the 500, 1000, and 1500 meter events. Competing year round from the age of two through high school, food took a particular significance as fuel to train harder and affect performance outcomes. Raines recognizes the privilege it was to receive proper nutrition, as well as professional nutrition counseling as a member of her competitive, athletic team. Her races as long as 66 pool lengths, meant sheer calories and dense nutrition was assumed. Once she stopped competing however, relearning how and what to eat without the need for 4-6k calories a day was a struggle–of which she has only recently found balance. During that struggle, she found her major.
In her studies, she realized the privilege of her childhood whereas those, just a few blocks from the Seattle U. pool she swam in, may have been struggling with food insecurity for their next meal affecting their academic performance. Awareness of the inequalities and injustices in society combined with this major have become her passion of helping others with food systems and nutrition.
When not studying nutrition, Raines is a proud member of the Alpha Phi Sorority and a registered nursing assistant. She is also a Red Cross lifeguard instructor, Red Cross CPR/AED/first aid instructor, and lifeguard at UW's IMA as well as the lifeguard beach manager for the City of Sammamish at Pine Lake. She has also passed on her love of swimming and athletics as a head coach of a summer league swim team in Sammamish.
Adela Wang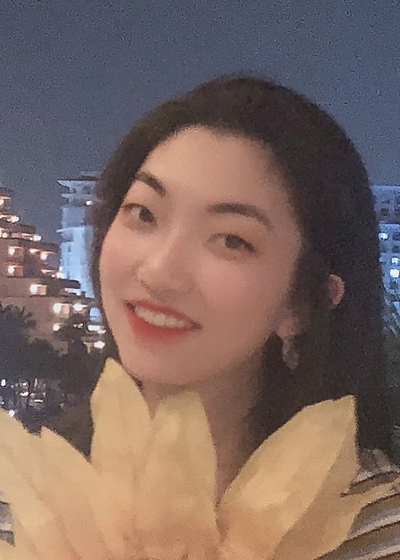 Adela Wang is a senior at the University of Washington studying Food Systems, Nutrition, and Health, and Economics. She describes herself as motivated, optimistic, and faithful. With a background in Economics, Wang chose to study food systems after learning about the food web and health problems related to the environment. "I have learned to become a food policy economist," she says and sees her studies as laying a solid foundation in studying food systems, nutrition and health. "I found the field of study has a significant impact on social development and advancement, especially with rapid economic and technological improvement today."
Wang became interested in nutrition and food systems after taking Nutrition 200 in her freshman year. The knowledge in the Nutrition seminar classes deepened her curiosity and intention for awareness about the sustainability of the environment and food systems. Those narratives and practices from guest speakers with diverse backgrounds were all connected to the food system and public health.
Relating to the current pandemic situation, Wang thinks the younger generation has the responsibility to fight with the world's health problems and help protect the people. After finishing her education, she hopes to influence a technological transformation and institutional reform in pursuing a career as a food policy economist in the food market and policy field.
October 22, 2020