News & Events
Students honored at program celebration
On Friday, August 23, we gathered to celebrate the work and achievements of students who will graduate in 2019 from our PhD, master's, and Graduate Coordinated Program in Dietetics programs.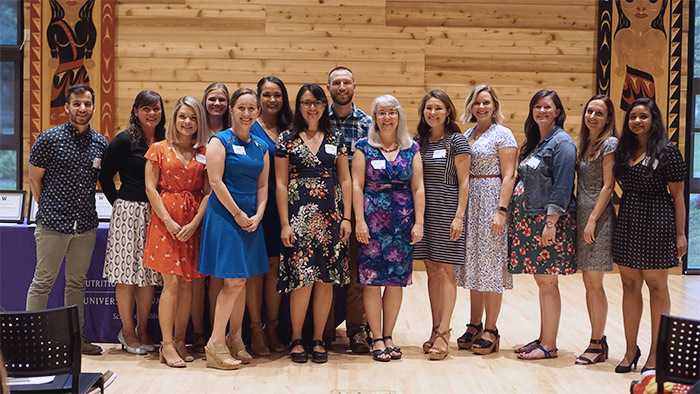 Poster sessions were presented by candidates who completed concentrations in Medical Nutrition Therapy or Public Health, and students were also individually recognized by faculty, staff and program advisers for their work.
The event also honored this year's recipients of the Outstanding Preceptor Award, an honor given by the graduating class to practice partners who have been exemplary educators and mentors to our students.
Congratulations to all of our students and honorees for 2019.
2019 Outstanding Preceptor Awards
Cheryl Davis RD, CD, CNSC, Seattle Children's Hospital
Hailey Wilson MS, RD, CS, CNSC, University of Washington Medical Center
HMC Inpatient Clinical Nutrition Team, Harborview Medical Center
Kiersten Israel-Ballard DrPH, PATH
Kimberly Mansen MSPH, RDN, PATH
Kris Marsh MS, RDN, CD, SNS, Highline Public Schools
Lauren Rice MPH, RDN, CD, Seattle Children's Hospital
Leah Isaacson MS, RD, University of Washington Medical Center
Lisa Johnson MS, RD, SNS, Highline Public Schools
Tena Bonilla RD, Eating Recovery Center
Doctor of Philosophy Candidate
Kelsey Schmidt*
Dissertation: The Impact of Low-Fat and Full-Fat Dairy Consumption on Glucose Homeostasis: A Randomized Controlled Trial
Committee: Mario Kratz, Michael Rosenfeld, Sarah Holte, Kristina Utzschneider, and Kerryn Reding
Master of Public Health Candidates
Rochelle Adriano*
Thesis: Physical Activity Levels, Physical Health, and Mental Health in Early Childcare Education (ECE) Providers and Their Relationships to Physical Activity Policy and Practices Within ECE Centers
Committee: Liz Kirk and Pooja Tandon
Lindsay Beck*
Thesis: Low-Income Workers' Perceptions of Wages, Food Acquisition, and Wellbeing
Committee: Jennifer Otten and Emilee Quinn
Casey McCoy*
Thesis: A Systematic Review Characterizing Farm Direct Marketing Challenges, Strategies, and Opportunities
Committee: Jennifer Otten and Lina Walkinshaw
Caity Robinson*
Capstone: Challenges and Opportunities of School Meal Programs in Five South King County School Districts
Faculty Advisor: Mary Podrabsky
Capstone Mentors: Kate Ortiz and Elizabeth Kimball
Sam Vinci*
Thesis: Associations Between Neighborhood Characteristics and Presence of Food Store Beverage Marketing in Seattle, WA
Committee: Jessica Jones-Smith and Vanessa Oddo
Jess Wolf*
Thesis: Dietary Quality of Providers and Children in Early Childhood Education: A Cross-Sectional Analysis
Committee: Jennifer Otten and Katherine Getts
Alicia Yang
Thesis: Have Inequities in BMI Widened for a Nationally Representative Cohort of Kindergarteners?
Committee: Jessica Jones-Smith and Shirley Beresford
Master of Science Candidates
Madie Delmendo*
Thesis: Exploring the State of U.S. Soil Health Legislation: A Qualitative Policy Analysis
Committee: Jennifer Otten and Yona Sipos
Imashi Fernando*
Thesis: Impact of Dairy Consumption on Symptoms of Gastroesophageal Reflux Disease: A Randomized Controlled Trial
Committee: Mario Kratz and Thomas Vaughan
Jenny Goodyear*
Capstone: Methods for Updating and Major Changes to the First Steps Education Modules
Faculty Advisor: Michelle Averill
Capstone Mentor: Beth Ogata
Mary Heid*
Capstone: Prenatal Hand Expression of Breast Milk for Women with Low Risk of Pregnancy Complications
Faculty Advisor: Michelle Averill
Capstone Mentor: Ginna Wall
Jeani Hunt-Gibbon*
Capstone: The Nutrition Care Process for Infertility
Faculty Advisor: Michelle Averill
Capstone Mentor: Judy Simon
Tucker Reiley*
Thesis: An Examination of Healthy Eating Index Scores and Sleep Pattern Characteristics Among Students in a Circadian Biology Class
Committee: Horacio de la Iglesia and Marian Neuhouser
Samantha Tengs*
Thesis: Body Mass Index and Breast Cancer Risk Among Pre- and Postmenopausal BRCA1/2 Mutation Carriers
Committee: Liz Kirk and Kate Ueland
* Completed RD training program