News & Events
Spring webinar for UW students explores career opportunities in food systems
Save the date of April 5, 2023 to attend a webinar hosted by the North American Food Systems Network (NAFSN) University of Washington Student Chapter in collaboration with NAFSN, the national professional development association for people working together to promote resilient local and regional food systems in the advancement of equity and healthful food access for all.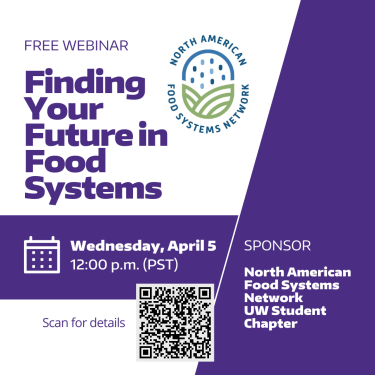 Webinar: Finding your Future in Food Systems
Date: April 5, 2023
Time: 12:00 p.m. – 1:00 p.m. (PST)
Cost: Free
For: Any UW student interested in food systems
How to attend: Register for this event
UW faculty featured in the webinar:
Alissa Bilfield, assistant teaching professor of environmental and occupational health sciences and core faculty in the Nutritional Sciences Program
Marie Spiker, assistant professor of epidemiology and core faculty in the Nutritional Sciences Program
Eli E. Wheat, assistant teaching professor in the Program on the Environment and core faculty in the Nutritional Sciences Program
Get involved in the NAFSN UW Student Chapter
Attend the next meeting on April 3 at 5:00 p.m.
The NAFSN UW Student Chapter aims to expose young professionals in the Seattle area to a variety of career opportunities offered by the field of food systems. If you are interested in learning more or becoming a member, attend the next meeting time on April 3 from 5:00 p.m. to 6:00 p.m. in Raitt Hall Room 229 or Zoom URL: https://washington.zoom.us/j/91049886779.
Meeting dates for spring: April 3, 17 and May 1, 15
March 27, 2023