News & Events
Sharon Feucht – 2018 Washington State Outstanding Dietitian of the Year
At their annual conference, the Washington State Academy of Nutrition and Dietetics (WSAND) honored Sharon Feucht, MA, RDN, CD with the Outstanding Dietitian of the Year Award for 2018. This award is the most prestigious recognition given by WSAND and highlights notable leadership, ability, and service.
Ms. Feucht has been with the Nutrition section of the Center on Human Development and Disability (CHDD) since 1985 working on various projects. She is an alumna of the UW Nutritional Sciences Program. Since 2008 Sharon has supervised nutrition fellows in the Leader-ship Education in Neurodevelopmental and related Disabilities (LEND) program for the University of Washington at CHDD.
"While it is true that it is part of Ms. Feucht's job description as nutrition faculty on the LEND grant to supervise nutrition trainees, her mentorship goes beyond the training. She stays in contact with past trainees and makes herself available for career advice as well as clinical advice."

-Award recommendation letter excerpt
Sharon is also the Project Director of the Nutrition Services for Children with Special Health Care Needs (CSHCN) contract, providing training for the RDNs belonging to the CSHCN Nutrition Network. She is Editor of the Nutrition Focus Newsletter for CSHCN. In addition, she has written well-known chapters for books and manuals, such as Krause's Food, Nutrition & Diet Therapy, and Samour and King's Pediatric Nutrition.
Sharon received the 2015 Outstanding Preceptor Award from the University of Washington Graduate Coordinated Program in Dietetics, and in 2004, the Washington State Academy's Excellence in Community Nutrition Award.
---
In addition to Sharon, the Nutritional Sciences Program's MS Candidate Emily Conner also received an award.
Emily Conner, MS Candidate – Outstanding Student Award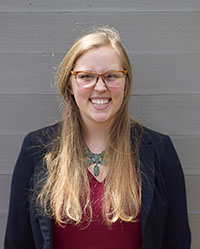 The purpose of the Outstanding Student Award is to recognize the emerging leadership and achievement of students in Academy-accredited and approved dietetic education programs. The Academy established the outstanding student awards in 1994 to recognize students who have demonstrated exceptional academic excellence and leadership in their dietetics program.
Emily Conner is an MS candidate with the Nutritional Sciences Program and has been described as "a rising star" in the field of dietetics. Per her nomination letter:

"Emily's Teaching Assistant experience is so robust that she helps guide and lead less experienced TAs in writing lesson plans and leading independent workshops. Emily also works with undergraduate students to help get their work published in a journal, along with providing guidance on scientific writing methods and con-ducting thorough literature reviews. Additionally, she is a lecturer and member of the University of Washington's 'Sizeism and Weightism Advocacy Group,' where she led a Health at Every Size 101 Workshop, May 2017."
Congratulations to Sharon and Emily, and thanks for your contributions in our community!
Learn more about the 2018 award recipients.
April 30, 2018