News & Events
Sarah Forrest awarded 2019 Bonderman Travel Fellowship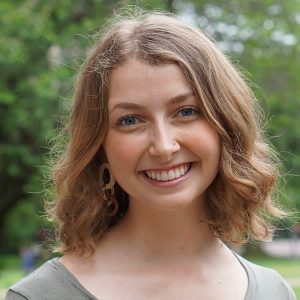 Sarah Forrest, a Public Health—Global Health Major and Nutrition Minor, has been awarded a 2019 Bonderman Travel Fellowship. The Fellowship funds an eight-month solo trip for Forrest which must include travel to at least two regions and six countries around the world.
Through this fellowship, Forrest hopes to travel to Brazil, Peru, Chile, India, Thailand, Indonesia, Vietnam, and China to explore foods across different countries and the role of food within cultures and religions.
She hopes to develop more globalized—and less western-centered—knowledge and beliefs surrounding food, nutrition, and health. Specifically, she aims to explore multicultural perspectives and approaches to understanding and attaining health in different regions of the world.
Forrest is one of eighteen Bonderman Travel Fellows selected. Each year a select group of UW students are provided a rare opportunity to independently travel the world as Bonderman Fellows. David Bonderman, a UW alumnus, created the Bonderman Fellowship in 1995, which has funded life-changing global journeys for more than 280 students.
After completing her travels and working for a few years, Forrest plans to earn a master's degree in Public Health and pursue a career in the global health field.
---
Learn more about the 2019 Bonderman Travel Fellowship recipients
May 8, 2019