News & Events
Nutritional sciences student and staff members recognized for excellence
Congratulations to Lindsay Beck, Kristin Elko, and Emahlea Jackson who were honored May 15 at the 2019 School of Public Health Excellence Awards. Each year, the School recognizes and celebrates the outstanding achievement of students, faculty and staff throughout the School of Public Health departments and programs.
2019 SPH Excellence Award Recipients for Nutritional Sciences
Lindsay Beck, Outstanding Master's Student – Nutritional Sciences
Kristin Elko, Outstanding Staff – Interdisciplinary Programs
Emahlea Jackson, Outstanding TA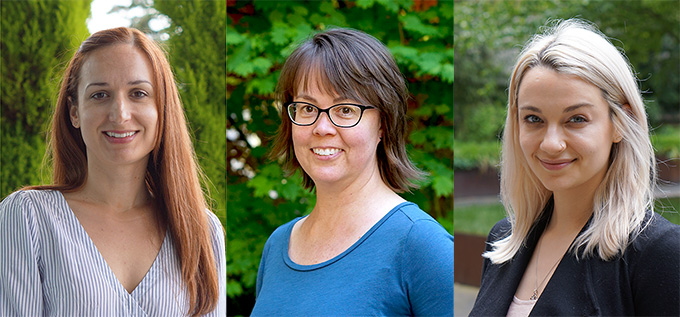 Lindsay Beck is a graduate student in our Master of Public Health and Graduate Coordinated Program in Dietetics and was recognized for her work marshalling an impressively large qualitative dataset in a very short timeframe to prepare a manuscript for inclusion in a special food security issue of Translational Behavioral Medicine.
Kristin Elko is the undergraduate adviser for nutritional sciences, providing support for students in our undergraduate programs. Since joining the Nutritional Sciences team in 2014, Elko has made a significant contribution in helping facilitate the growth of our undergraduate programs, including the new major in Food Systems, Nutrition, and Health which began enrolling students earlier this year.
Emahlea Jackson a Master of Public Health student, is a teaching assistant for Anne-Marie Gloster's course NUTR 241: Culinary Nutrition Science and is recognized for her excellent classroom management skills, proficiency with learning technologies, and for her ability to grade with fairness.
Join us in congratulating Lindsay, Kristin, and Emahlea!
May 16, 2019