News & Events
New UW course explores food systems innovation
University of Washington will offer a new course in autumn 2022 which examines multi-sectoral approaches to innovation in the food system, with a focus on nutrition and health as they relate to personal and public health.
The new 3-credit course is taught by Alissa Bilfield, an assistant teaching professor in the Nutritional Sciences Program and Department of Environmental and Occupational Health Sciences in the UW School of Public Health.
Register for:
More About the Course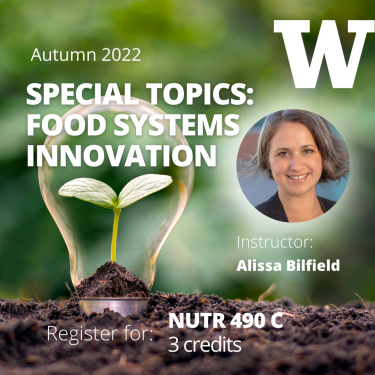 This course provides students with both academic and real-world knowledge and experience in innovation and entrepreneurship skills to address complex food systems problems.
Examine how a variety of organizations create change in the food system, including nonprofit, for profit, and hybrid organizations such as B corps, looking for best practices in food systems innovation.
The course explores how food systems innovation leaders create change by cycling through the innovation process and learn methodologies and skills from the entrepreneurial mindset, human-centered design, and impact management.
Students also learn about local organizations of various kinds and sizes and evaluate their efforts to innovate in addressing complex food systems issues.
By the end of this course, students will understand the innovation process and how to integrate it to address complex food systems challenges.
This course will help prepare students to participate in innovation challenges at UW and in the community, while exploring multi-sectoral pathways for a more sustainable food system.
---
About the Instructor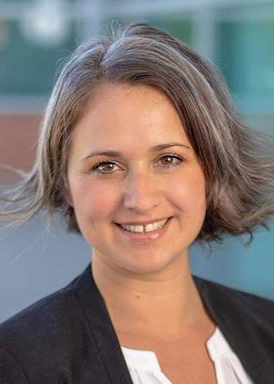 NUTR 400/500 for winter 2022 is taught by Alissa Bilfied, an assistant teaching professor of environmental and occupational health sciences and nutritional sciences.
Alissa Bilfield received her PhD in Public Health from Tulane University, her Master of Science in Environment and Development from the London School of Economics and her Bachelor of Arts in Political Science from Vanderbilt University.
Her interests include sustainability, innovation and entrepreneurship, and food certification systems. Her interdisciplinary background includes work and research in the government, nonprofit and academic sectors that has spanned the United States and 14 different countries, ranging from Guatemala to Sri Lanka. Bilfield is also a social entrepreneur herself, having co-founded a food literacy and cooking education nonprofit called The Cookbook Project. When she is not working with farmers, community members, and food entrepreneurs in the field, she is hiking with her dogs, rock climbing, meditating and cooking.
May 3, 2022