News & Events
New course on food system sustainability for undergraduates
What are the current and future challenges with our food system?
NUTR/ENVIR 312 Food Systems Sustainability and Resilience is a new undergraduate course being offered in spring 2021 which explores the concepts of sustainability and resilience as they are used today in the study and management of agricultural and food systems.
The course takes a systems-thinking approach to assessing current and future challenges and resilience in the face of stresses and shocks.
Students will learn to consider the complex dynamics between biological and geophysical aspects of food production systems in the context of nourishing a growing population, and to recognize and evaluate co-benefits and tradeoffs.
After completing this course, students will be able to:
List dimensions of sustainability and characteristics of resilient systems
Describe how key sustainability and resilience concepts apply to food systems
Describe major advances and significant tradeoffs in the development of modern crops and livestock
Identify sources of vulnerability and resilience in food production systems
Evaluate relationships between sustainable diets and sustainable production systems
Analyze interrelationships between land use, soil, water, and climate in food production systems
Assemble information and construct arguments related to topics of debate in food system sustainability
Communicate effectively and persuasively both orally and in writing
The course is taught by Sarah Collier, a food systems expert in Nutritional Sciences and an assistant professor in environmental an occupational health sciences.
Course Links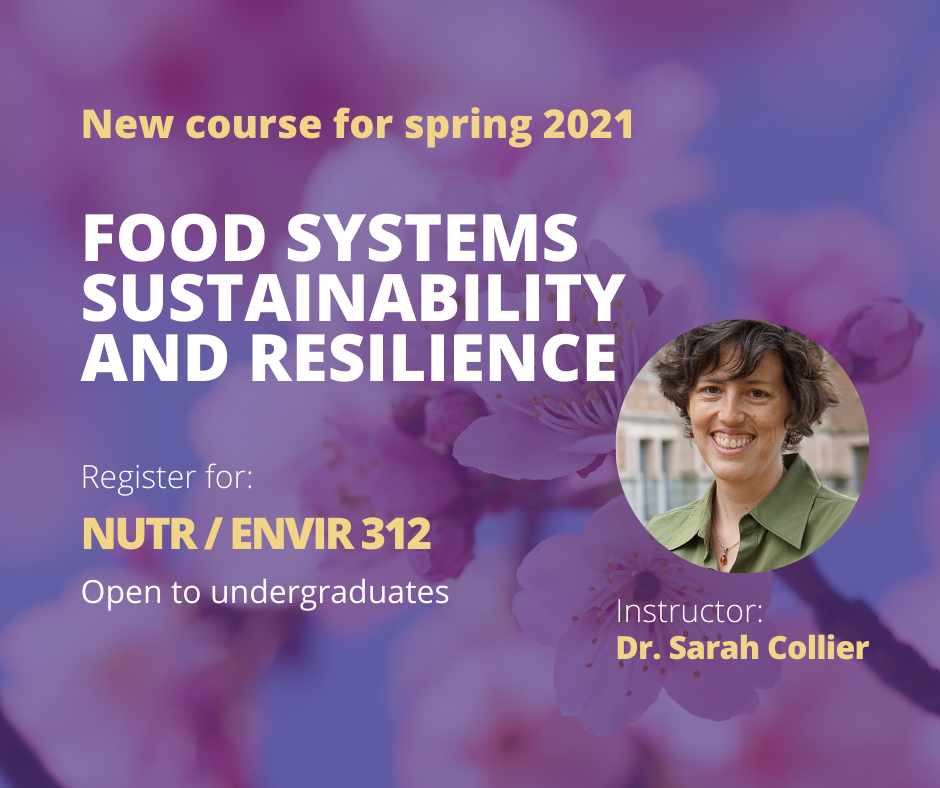 February 22, 2021