News & Events
Dr. Marie Spiker joins Nutritional Sciences core faculty
The Nutritional Sciences Program is pleased to welcome Dr. Marie Spiker as a new member of our core faculty and growing team of food systems researchers. Spiker is an assistant professor in epidemiology in the UW School of Public Health. Spiker approaches public health nutrition through a food systems lens. Her research focuses on equitably nourishing a growing global population – which inputs have more leverage within complex systems, and what evidence do food systems stakeholders need in order to support public health?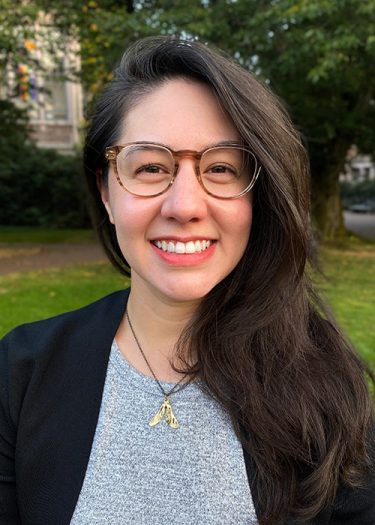 Spiker received her PhD in Human Nutrition in 2019 at the Johns Hopkins University Bloomberg School of Public Health and completed her MSPH/RDN training in 2014, also at Johns Hopkins. She is an alumna of the University of Washington and earned her BS in Individualized Studies with a concentration in Public Health, a BA in Anthropology with the option in Medical Anthropology and Global Health, and a minor in Spanish in 2011. As an undergraduate in the UW Honors Program, Spiker was also a Bonderman Fellow, where she learned about small-scale food production on family-run farms in South America and South Asia.
In her graduate work at Johns Hopkins, Spiker investigated connections between nutrition and food systems. She worked with a team of systems scientists and computational modelers at the Global Obesity Prevention Center and Pittsburgh Supercomputing Center to explore how supply chain constraints influence the availability and loss of nutritious foods in low- and middle-income countries. She worked with researchers at the Johns Hopkins Center for a Livable Future to explore wasted food in relation to nutritional value, date label policies, retail environments, and consumer perceptions and behaviors. Spiker also conducted research on urban agriculture, household food insecurity, and menu labeling policies.
Most recently, Spiker served as a Healthy and Sustainable Food Systems Fellow with the Academy of Nutrition and Dietetics Foundation. In this role, she led strategic initiatives to grow the capacity of nutrition and dietetics professionals to cultivate sustainable, resilient, and healthy food and water systems. Her work included convening thought leaders to create a framework for action for how the profession of nutrition and dietetics can amplify its work in this area and supporting the implementation of a new sustainable food systems curriculum for dietetic interns and students.
Watch a video featuring Spiker interviewed about her work as a Foundation Fellow.
Watch a video highlighting the Foundation's framework for action.
Spiker has also been appointed to the Academy of Nutrition and Dietetics Council on Future Practice, which uses a visioning process to project the future practice needs of the profession. The council recently published a brief, Navigating Future Practice: VUCA, highlighting strategies for practitioners to adapt and remain agile amidst volatile, uncertain, complex, and ambiguous environments. Spiker also recently served as a co-author on the revision of the Standards of Professional Performance for registered dietitian nutritionists in sustainable, resilient, and healthy food and water systems, which guides practitioners in their professional development in this area.
This year Spiker will support the development of instructional activities in the Food Systems, Nutrition, and Health Major, and will teach NUTR 514 Sustainable Food Systems for Population Health for graduate students.
September 9, 2020