News & Events
Learn about bread in our spring food seminar
Bread has long been a staple source of nutrients throughout history, and this spring quarter in NUTR 390, we'll examine bread from scientific, nutritional, historical, culinary, and cultural perspectives.
More About the Course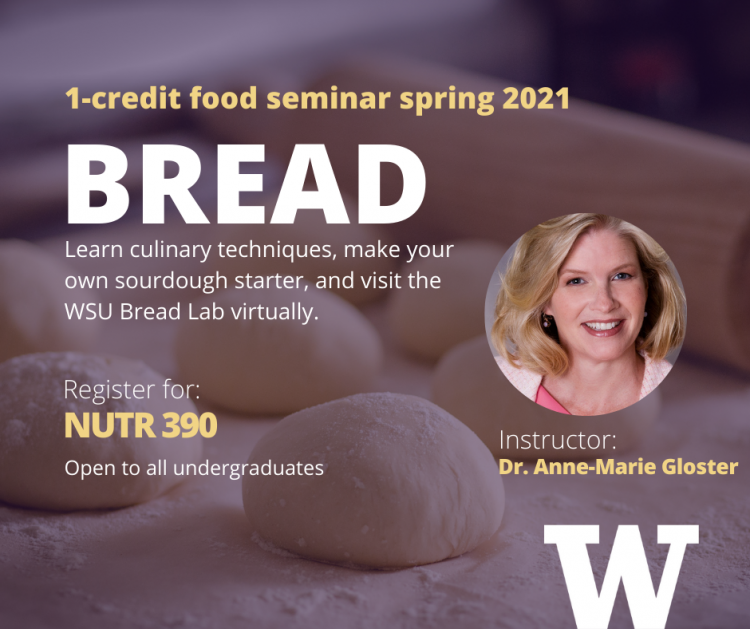 Bread has long been a staple source of nutrients throughout history. There are thousands of varieties of flour mixtures. Some are as simple as flour and water and others as complex as the laminated dough in the French croissant.
Bread may be leavened or unleavened. Leavened bread can be made with yeast and/or bacteria, by acid/base reactions, or by steam. Bread can be produced by boiling, baking, or deep fat frying dough. Whether a flour mixture becomes a dough, or a batter, is dependent on its ratios of liquid to dry ingredients. 
In the course, taught by Anne-Marie Gloster, a food science and culinary expert, you will make a personalized sourdough starter, and make a virtual visit to the WSU Bread Lab, a Washington state wheat farm and grain mill. 
NUTR 390 is a seminar that provides opportunities for students to examine diverse perspectives on current food, culinary, and food system issues from production, processing, and marketing to consumption, nutrition, and health. In addition to seminar lectures, students will have the opportunity to hear from voices in the field, including producers, processors, leading topic experts, and public health professionals.
Join us this spring for a glutinous good time!
March 3, 2021