News & Events
Introducing food system diplomacy, a method to positively influence the health of people and the planet
By Kate Stringer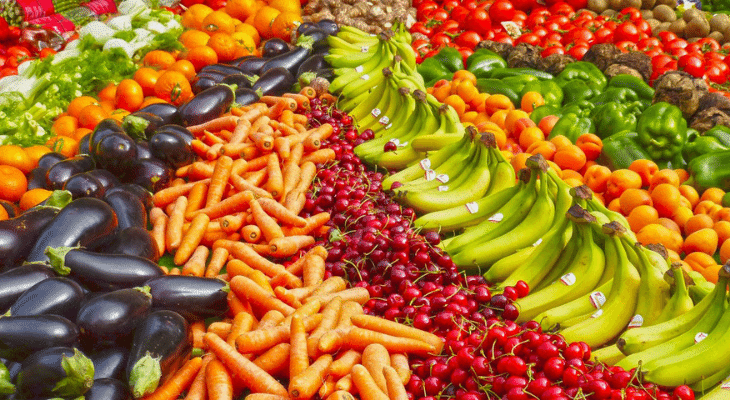 When the global food system is thrown into crisis — whether that's due to a pandemic, a war, a drought — often the first concern is economic fallout. But prioritizing the needs of commerce often comes at the expense of other interests: occupational health, environmental health, and social equity.
That's why food scholars want to reimagine how our global food system is governed so that economic interests are not the only priority. What researchers have proposed is food systems diplomacy, a new idea and framework that could lead to more thoughtful and balanced governance of food, and ultimately, a healthier population and planet.
The researchers published this framework in Nature Food on Sept.15, titled, "Food systems governance should be preceded by food systems diplomacy." Until now, a more holistic approach to food systems has not been a part of foreign policy. This framework would help international leaders consider and balance the four major domains of sustainable food systems: economic, population health, social issues and the environment.
Having a framework like this is important because the vast majority of our food is traded globally, and usually there's a trade agreement that has been negotiated throughout our history that enables the exchange of that food across national boundaries. This affects important elements such as in-country production and price, said Divya Garg, a master's graduate of the University of Washington School of Public Health's Nutritional Sciences Program and lead author of the commentary. When a global crisis arises like the Russian war in Ukraine, it can wreak havoc on the food supply, often with the most vulnerable communities paying the price.
"Food systems diplomacy has the potential to recalibrate global food governance to better, more equitably, serve the four interconnected domains of sustainable food systems," Garg said. "My hope is that thinking about food systems more holistically becomes a normal part of the conversation."
These four domains of sustainable food systems come from the Food and Agriculture Organization of the United Nations, and the authors of the paper outlined goals for each:
Population health
Ensure there is enough food
Prioritize safe, nutritious food
Ensure that all people can access and utilize these foods in ways that lead to improved nutritional status and health
Promote policies and infrastructure that support nutritious diets for future generations
Consider occupational health, such as the health of farmworkers, restaurant workers and other laborers
Social
Prioritize social equity outcomes for vulnerable groups including women, farmworkers and other laborers, resource-constrained households, and communities susceptible to climate change or agricultural/environmental exposures
Promote the production of and access to culturally appropriate foods
Uphold dignity and minimize harm to cultural practices related to food
Environmental
Promote diets with low environmental impact
Protect and restore the environment and its natural resources including soil, water, air, forests, wildlife and energy
Mitigate and reverse climate change
Build ecological resilience to disruptions that may impact food systems
Economic
Leverage the global movement of foods in ways that build wealth for all nations
Identify areas where food systems change can contribute to long-term economic growth
Foster economic resilience, especially for developing economies
"The food systems diplomacy framework encourages leaders to have more deliberate and balanced conversations about how their decisions might impact the food system," Garg said.
This framework can be used in prospective diplomatic negotiations, such as during the negotiation of trade agreements or in times of crisis, such as when political leaders gather to address global pandemics. It can also be used to study historic diplomatic events, such as the analysis of trade agreement documents like the United-States-Mexico-Canada-Agreement (USMCA, formally NAFTA, the North American Free Trade Agreement). Applying the food systems diplomacy framework reflectively allows researchers to make sense of how the four domains of the food system were considered in its negotiation.
Economic interests have taken priority in past diplomatic negotiations. When NAFTA was being renegotiated in 2018 to bring back manufacturing jobs to the U.S., the American soft-drink and food corporations put pressure on the U.S. government to add a clause that would have prevented front-of-package warning labels on high sugar and high fat foods in Mexico and Canada. While this was not ultimately successful, it shows that economic pressures can come at the expense of population health.
"For too long, the food system has prioritized economic interests and national boundaries at the expense of environmental and population health outcomes and at the expense of more inclusive and collective action," said Jennifer J. Otten, senior author of the commentary and associate professor at the UW School of Public Health. "The time has come to rebalance that. I think COVID-19 really illustrated that when you have a system that isn't thinking about balance across different dimensions, you can widen inequities."
Food systems diplomacy has the potential to establish new governance mechanisms that include a wider variety of participants that can reframe the global food governance narrative to one that is preventive rather than reactive. If leaders are assessing the outcomes of trade agreements across the four domains, they may be able to anticipate how an event like volatile weather could affect food security, and be prepared to adjust accordingly.
"Ultimately, food systems diplomacy can help improve relations between countries and can contribute to peace and security," Otten said.
The authors of the commentary include Divya Garg, MPH graduate of the Nutritional Sciences Program at the UW School of Public Health; Marie L. Spiker of the Nutritional Sciences Program, Department of Epidemiology at the UW School of Public Health; Jill K. Clark, the John Glenn College of Public Affairs, Ohio State University; Christian Reynolds, the Centre for Food Policy, School of Health & Psychological Sciences, City, University of London; and Jennifer J. Otten of the Nutritional Sciences Program, Department of Occupational & Environmental Health Sciences at the UW School of Public Health.
---
By: Kate Stringer
This story was published by the UW School of Public Health and re-posted with permission.

October 5, 2022