News & Events
Food Truck Rodeo: New UW Course Featured in News
New UW Course Fueled by Food Truck Craze
Over the last few years, more than 4,700 mobile food vendors have rolled into cities and suburbs across the country. They're serving up everything from fresh fish tacos and pulled pork sandwiches to Korean BBQ, gluten free quinoa bowls and the always-popular fish and chips. Now, University of Washington students can learn about the industry as it relates to the larger food system in a new course from the School of Public Health called "Food Truck Rodeo."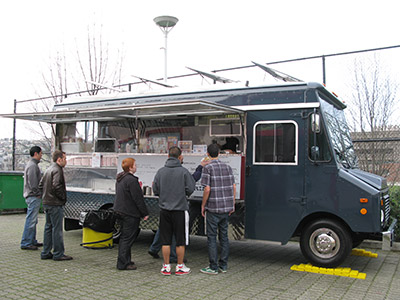 Read the full story (SPH NEWS) >
This class has also been featured on KUOW. Lecturer Anne-Marie Gloster talks about Food Truck Rodeo and the concept of 'Farm to Fork'.
Listen to the recording (KUOW-FM NPR) >
---
About the Class
NUTR 390 is a seminar series by the School of Public Health's Nutritional Sciences Program, which provides opportunities for students to examine diverse perspectives on current food, culinary, and food system issues from production, processing, and marketing to consumption, nutrition, and health. This quarter the focus is on the mobile food industry: Food Truck Rodeo (FTR). FTR seeks to examine the history, culture, and issues of social justice within the mobile food industry, including but not limited to everything food on bike, kiosk, or truck. Subsequently, FTR will explore the challenging issues around starting and operating a mobile food business by listening to experts in the field. Student teams will create a virtual food truck concept based on what they are exposed to in the class lectures, readings, and visits to local food trucks.
February 8, 2018