News & Events
Food Systems Capstone Celebration on June 2
The Food Systems, Nutrition, and Health Undergraduate Student Advisory Council (USAC) in the Nutritional Sciences Program will host a reception June 2 in appreciation of community partners involved in the course NUTR 493 Food Systems Capstone.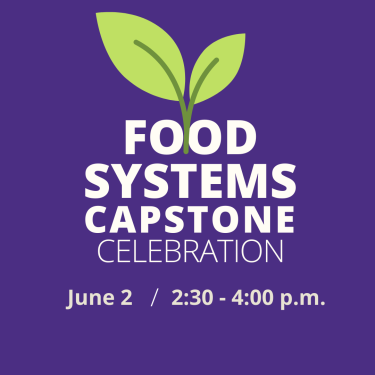 The Food Systems Capstone Celebration, which will be held 2:30 p.m. – 4:00 p.m. in the Hans Rosling Center for Population Health (HRC) in Room 280, directly follows student final presentations the same day.
The event is open to community partners, students, staff, and faculty.
View photo highlights from the event.
About the Food Systems Capstone
The Food Systems Capstone is a culminating academic endeavor for UW undergraduates majoring in Food Systems, Nutrition, and Health.
The course, taught by instructor Dr. Yona Sipos, emphasizes systems thinking, community engaged scholarship, anti-racism and equity, and opportunities for students to grapple with real world, complex issues across the food system.
Community Partners for 2022
This quarter students had the opportunity to collaborate with the following community partners:
Questions about the reception may be directed to ugnutr@uw.edu.
May 23, 2022