News & Events
Cultivating Sustainable Food Systems to Improve Nutrition, Health, and Equity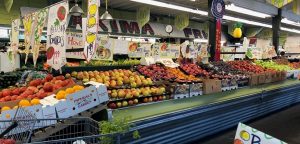 The theme for our AUT 2018 seminar is Cultivating Sustainable Food Systems to Improve Nutrition, Health, and Equity.
Food systems contribute to and are affected by the major unsustainability crises of our time, both in the U.S. and globally. These challenges include malnutrition and food-related diseases; labor and immigration; international trade; poverty and inequality; and climate change and loss of natural resources, including wasted food. Each issue is complex and further complicated by rapidly evolving political, social, and ecological uncertainty.
How do food systems reorient toward sustainability—and even resilience—in the face of great uncertainty? The Nutritional Sciences Autumn 2018 Seminar explores the intersections and relationships needed to foster equitable, climate-smart, nutrient-rich, and productive food systems. Invited experts from UW and beyond represent highlights from interdisciplinary research and practice critical for promoting sustainable food systems, nutrition, health, and equity.
The seminar is open to all UW students, faculty and staff. Students may register for NUTR 400 (SLN 19324, undergraduates) or NUTR 500 (SLN 19330, graduates).
The schedule of speakers will be available here in late summer.
August 8, 2018