News & Events
Congratulations to 2021 master's and GCPD graduates
Friday, August 20, we recognized the accomplishments of our students who will complete their graduate degrees and Graduate Coordinated Program in Dietetics (GCPD) training in 2021. The small gathering consisting of students, staff, and faculty took place in the UW Quad.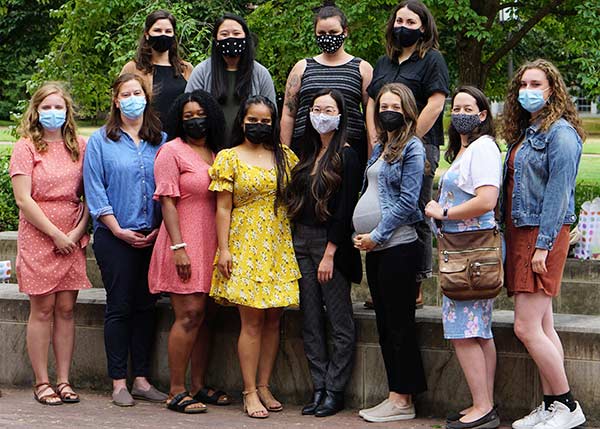 Anne Lund, the program director said, "Graduation looked a little different this year as we quietly celebrated a cohort of students who showed great perseverance by completing grad school and an internship during the pandemic. There was no script for them to follow as the rules and guidelines changed repeatedly. This group was resilient and flexible as they navigated multiple online platforms and work settings but they always seemed to find the next right thing to do. I hope they are able to maintain these attributes as they enter the workforce because thinking outside the box and making decisions in ambiguous situations is what is needed to move our profession forwards."
Congratulations to all of our students!
Diana Gabriela Aguilera
Cairo Archer
Jessa Engelken
Josh Floberg
Alexandra Garrity
Emahlea Jackson
Molly Knowling
Dani Ladyka
Dorothy Nguyen
Sarah Perlin
Maryann Ruiz
Lauren Sawyer
Aline Seroussi
Stephanie Winterbauer
Kazue Yoshida
August 20, 2021