News
Adam Drewnowksi steps down as program director
Dr. Adam Drewnowski has announced he will step down from his role as director of the University of Washington Nutritional Sciences Program in the School of Public Health beginning July 2022.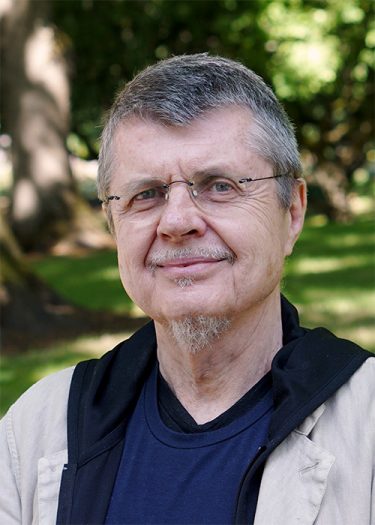 Drewnowski, who has guided the program through much transformation and growth since his arrival at UW in 1998, will continue as a core faculty member in the Nutritional Sciences Program and the Department of Epidemiology, and will also maintain his role as director of the UW Center for Public Health Nutrition.
"I look forward to taking a leading role in food systems research at both national and international levels," said Drewnowski.
"There are many aspects of the food supply that are critical to ensuring global food security and improving population health."
Throughout his career as the director of the Nutritional Sciences interdisciplinary program, Drewnowski has been pivotal in its growth.
Two years after taking the reigns as director, the UW dietetics program received its initial accreditation in 2000, and then again in 2008, the Didactic Program in Dietetics (DPD) and dietetic internship (DI) were combined and established to what is today known as the Graduate Coordinated Program in Dietetics (GCPD).
In 2013 under Drewnowski's leadership, the Nutritional Sciences Program expanded once again to offer a Nutrition Minor, then again in 2018 by introducing a new undergraduate Major in Food Systems, Nutrition, and Health.
Anne Lund, the GCPD director and MPH-Nutrition director said about Drewnowski, "UW's dietetic program and my career have benefited from Adam's leadership. The trust he puts in faculty members has allowed each of us to develop our unique talents and interests. His support of my efforts to add anti-racist content to dietetic education led to my attending numerous conferences, bringing guest speakers into the classroom, and collaborating with other dietetic leaders to publish how to include an anti-racist lens within dietetics. I will forever be grateful for Adam's encouragement and his entrusting myself and the other NSP faculty with program leadership opportunities."
Elizabeth Kirk, a colleague and an associate teaching professor in epidemiology and associate director of the Nutritional Sciences Program says that Drewnowski has been a force of positivity and transformation within the Nutritional Sciences Program for over two decades.
"I am fortunate to have had a front row seat to see his visions come into fruition. As a leader in the emergence of systems-thinking as a necessary lens for viewing problems and solutions in food and nutrition, both domestically and internationally, Adam's expansive view propelled the growth of the Program and the launch of the Food Systems, Nutrition, and Health undergraduate degree," said Kirk.
"As he departs his role as Director, he leaves a legacy of a growth mindset — of asking and pursuing what's possible — in terms of our Program's place in the School and University, and in terms of the emergent field of food systems, nutrition, and health."
After stepping away from his administrative role as director, Drewnowski will continue as a core faculty member in the program and in conducting nutritional epidemiology research.
Drewnowski is well known for his contributions to research in nutrition, socioeconomic determinants of obesity and diet-related chronic disease, relation between diet quality and diet cost, and sustainable nutrition security as it relates to climate change.
Drewnowski invented the Nutrient Rich Foods Index which was first published in 2010, which rates individual foods based on their overall nutritional value, and the Affordable Nutrition Index, which helps consumers identify affordable healthy foods.
In 2020, Drewnowski published Nutrient Rich Food Density Models which updates and shifts emphasis from single nutrients to food patterns, food groups, and dietary ingredients.
Throughout his career, he has conducted extensive studies on taste function and food preferences, exploring the role of fat, sugar, and salt on food preferences and food cravings.
His studies on bitter taste genetics have explored consumer acceptance of bitter phytochemicals in vegetables and fruit.
Drewnowski co-leads the Moving to Health study exploring the impact of residential mobility on weight change and diabetes related health outcomes. Modeled on the classic Moving to Opportunity study, the Seattle based project is conducted jointly with the Kaiser Permanente Washington Institute for Health Studies.
The Seattle Obesity Study (SOS), funded by the National Institutes of Health, was among the first to explore the geographic distribution of diet quality, body weight and ill health across Seattle neighborhoods. Focusing on food expenditures, diet quality and diet cost, the SOS helped establish that obesity is the outcome of economic and social disparities across population groups.
Drewnowski has authored over 350 research papers, numerous reviews and book chapters, and is a frequent participant and invited speaker at scientific meetings, conferences, and symposia.
More About Drewnowski
Dr. Adam Drewnowski obtained his MA degree in biochemistry at Balliol College, Oxford, and a Ph.D. degree in psychology at The Rockefeller University in New York. Following post-doctoral training at the University of Toronto, he returned to The Rockefeller University as Assistant Professor. He later moved to the University of Michigan, where he became Professor of Public Health, Psychology and Psychiatry and Director of the Program in Human Nutrition at the School of Public Health. He moved to Seattle in 1998. He is the founding Director of the University of Washington Center for Obesity Research, which addresses the environmental, social and economic aspects of the obesity epidemic. Drewnowski is also a Joint Member of the Fred Hutchinson Cancer Research Center in Seattle and a public trustee of the Agriculture and Food Systems Institute. He is the author of over 350 research papers, numerous reviews and book chapters, and a frequent participant and invited speaker at scientific meetings, conferences, and symposia. Dr. Drewnowski has advised government and international agencies, foundations, and think tanks.
June 21, 2022