News & Events
Food Systems, Nutrition, and Health Seminar
Urban Food Systems
Autumn 2022
Over 80% of the US population lives in urban areas; by 2050, close to 70% of the whole world will do the same. Urban food systems can promote community health but also face many challenges.
Systemic inequities across communities, low wages for food chain workers, expensive real estate, limited city zoning, polluted soils and water, compromised growing sites, and complicated supply chains are all compounded by increasing climate disasters. Food prices are rising along with food insecurity.
So, what are the solutions? How can urban food systems instead support functional ecological systems, strong livelihoods, and just opportunities that promote food security and food sovereignty? How can the challenges be addressed and overcome to result in stronger health, sustainability, and equity outcomes?
In this seminar we will dig into urban food systems, including communities, soils, agriculture, markets, and more as you engage with leaders at the forefront of addressing these challenges and opportunities.
Seminar Information
Tuesdays, Kane Hall 120
Time: 11:30 a.m. – 12:20 p.m.
Instructor: Yona Sipos
Seat availability/registration info:
Autumn 2022 Speaker Schedule
Some sessions will be recorded and posted on this page throughout the quarter, or set up an alert to be notified when new videos are posted on our YouTube channel.
Date
Title
Oct 4
Introduction to Urban Food Systems
Presenter: Yona Sipos, Nutritional Sciences Program, Environmental and Occupational Health Sciences, School of Public Health, UW
Oct 11
Reducing Food Loss and Waste
Presenter: Jessica Jones-Smith, Nutritional Sciences Program, Health Systems and Population Health, Epidemiology, School of Public Health, UW
Oct 18
Food Access and Mutual Aid: Example of Providing Food to the Community Through Decentralized Networks
Presenter: Michelle McIntosh, Advocate for Mutual Aid
Oct 25
Seeking Justice, Eating Toxics: Overlooked Contaminants in Urban Community Gardens
Presenter: Melanie Malone, School of Interdisciplinary Arts & Sciences, UW Bothell
Nov 1
Growing Food and Community in Seattle
Presenters: Cherry Liu, Beacon Food Forest, and Bela Sánchez, Solid Ground and Marra Farm
Nov 8
Seeking Feedback: Presenting the UW Farm Strategic Plan Phase I
Presenters: UW Farm, UW Farm Advisory Committee, and UW Botanical Garden
Nov 15
Eat Local First - Healthy Food, Healthy Farms, Healthy Economies, and Healthy Communities
Presenter: Sheryl Wiser, Tilth Alliance and Eat Local First
Nov 22
Introduction to the Food Equity Fund
Presenter: Lorna Velasco, City of Seattle Food Equity Fund
Nov 29
Seattle's Food Action Plan: Developing the City's Roadmap Towards a More Sustainable, Equitable Food System
Presenters: Chris Iberle and Bridget Igoe, City of Seattle Office of Sustainability & Environment
Seán Walsh, City of Seattle Human Services Department
Dec 1
Growing Future Cities: The Potential of Urban Food Systems
Presenter: Yona Sipos, Nutritional Sciences Program, Environmental and Occupational Health Sciences, School of Public Health, UW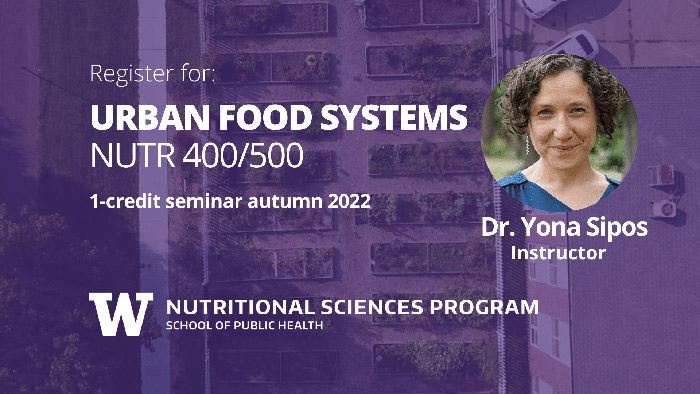 Archives
Watch recordings of many of our recent seminars on YouTube or explore our archives below. Session information, speaker schedules, and links to session recordings are available.
Subscribe to our presentations listserv to receive announcements about upcoming Nutritional Sciences Program seminars, student thesis and dissertation presentations, and other program events. Get details