News & Events
Food Systems, Nutrition, and Health Seminar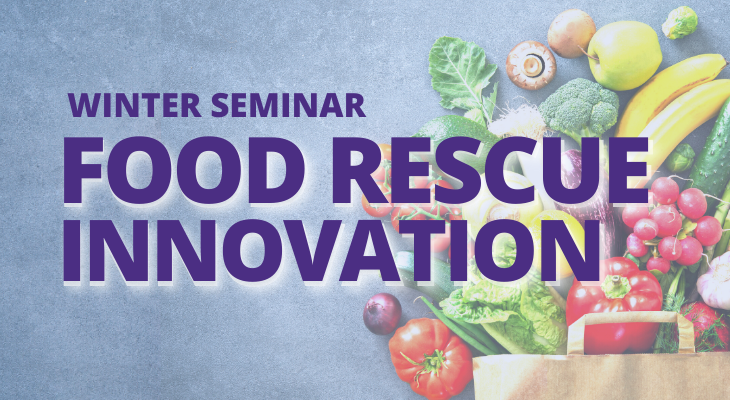 Food Rescue Innovation
Winter quarter 2022
Fridays at 12:30 p.m. in Kane Hall 130
Instructor: Alissa Bilfied
Check seat availability: NUTR 400 and NUTR 500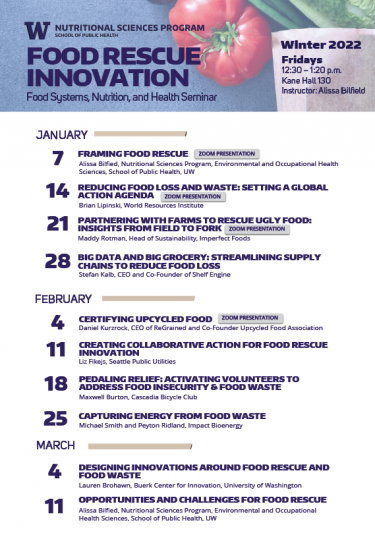 The food and agriculture organization estimates that each year, one-third of all food produced in the world for human consumption is lost or wasted. Not only does this impact global food security and climate change, but it is also evidence of the incredible economic and environmental waste within the food system. Addressing the issue of food loss and food waste has the potential to generate a "triple win".  At the economic level, reductions in food loss and waste can save money for farmers, companies, and households. Wasting less food also means we can feed more people, creating enhanced food security. And reductions in food waste can alleviate pressure on climate change through efficiencies in water, land, and energy use. Recently, there has been a modern movement around food loss and waste reduction, centered around the United Nations Sustainable Development Goal 12.3, which calls for halving the rate of food loss and waste by 2030. How can we achieve this aggressive goal? In this seminar, we will learn from experts and innovators in the private, public, and non-profit sectors at the forefront of addressing the real challenges of food loss and food waste at all parts of the food system, while considering creative approaches that harness collective behaviors and human motivation to catalyze change.
Schedule
Date
Title

Jan 7

Framing Food Rescue

Alissa Bilfield, Assistant Professor, Nutritional Sciences Program and Environmental & Occupational Health Sciences, School of Public Health, UW Remote session

Jan 14

Reducing Food Loss and Waste

Brian Lipinski, World Resources Institute Remote session

Jan 21

Partnering with Farms to Rescue Ugly Food: Insights from Field to Fork

Maddy Rotman, Head of Sustainability, Imperfect Foods Remote session

Jan 28

Big Data and Big Grocery: Streamlining Supply Chains to Reduce Food Loss

Stefan Kalb, CEO and Co-Founder of Shelf Engine

Feb 4

Certifying Upcycled Food

Daniel Kurzrock, CEO of ReGrained and Co-founder Upcycled Food Association Remote session

Feb 11

Creating Collaborative Action for Food Rescue Innovation

Liz Fikejs, Seattle Public Utilities

Feb 18

Pedaling Relief: Activating Volunteers to Address Food Insecurity & Food Waste

Maxwell Burton, Cascadia Bicycle Club

Feb 25

Capturing Energy from Food Waste to Address Climate Change

Michael Smith and Peyton Ridland, Impact Bioenergy

Mar 4

Designing Innovations Around Food Rescue and Food Waste

Lauren Brohawn, Arthur W. Buerk Center for Entrepreneurship, UW

Mar 11

Opportunities and Challenges for Food Rescue

Alissa Bilfield, Assistant Professor, Nutritional Sciences Program and Environmental & Occupational Health Sciences, School of Public Health, UW
Land Acknowledgment
The University of Washington acknowledges the Coast Salish people of this land, the land which touches the shared waters of all tribes and bands within the Duwamish, Suquamish, Tulalip and Muckleshoot nations.
---
About the Instructor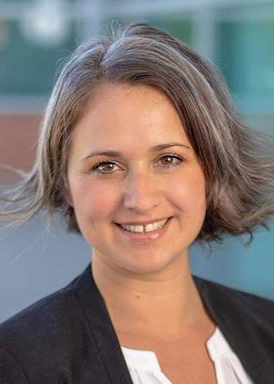 NUTR 400/500 for winter 2022 is taught by Alissa Bilfied, an assistant teaching professor of environmental and occupational health sciences and nutritional sciences. Alissa Bilfield received her PhD in Public Health from Tulane University, her Master of Science in Environment and Development from the London School of Economics and her Bachelor of Arts in Political Science from Vanderbilt University. Her interests include sustainability, innovation and entrepreneurship, and food certification systems. Her interdisciplinary background includes work and research in the government, nonprofit and academic sectors that has spanned the United States and 14 different countries, ranging from Guatemala to Sri Lanka. Bilfield is also a social entrepreneur herself, having co-founded a food literacy and cooking education nonprofit called The Cookbook Project. When she is not working with farmers, community members, and food entrepreneurs in the field, she is hiking with her dogs, rock climbing, meditating and cooking.
Archives
Session information, speaker schedules, and links to session recordings for past seminars are available here.  Visit or subscribe to our YouTube Channel to receive alerts when new recordings are shared.
Subscribe to our presentations listserv to receive announcements about upcoming Nutritional Sciences Program seminars, student thesis and dissertation presentations, and other program events. Get details