News & Events
Food Systems Seminar
Food Systems in the Age of Climate Change Winter 2020
Co-hosted with CHanGE (Center for Health and the Global Environment)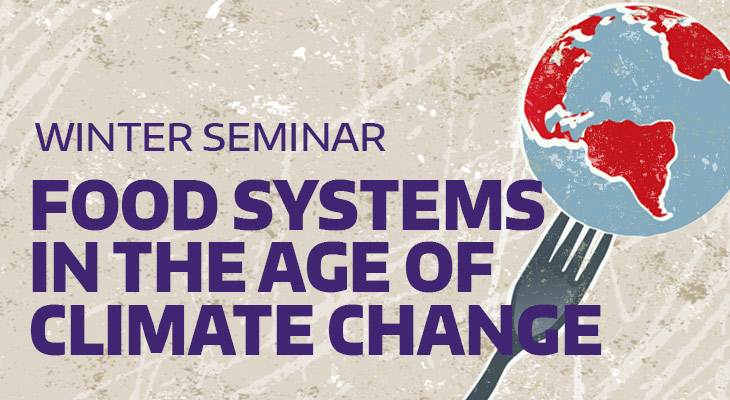 Our winter seminar explores climate impacts in the context of Pacific Northwest Food Systems.
Every aspect of the food system is impacted by and has an impact on climate. Greenhouse gas emissions and contributions to climate instability or resilience are determined by what we eat, how that food is produced and harvested, how far it travels, and whether the food is wasted or resources are recovered. Climate change impacts which foods will grow and be available, their nutritional outcomes, and the occupational health of front-line agricultural workers.
The series highlights local and regional experts to offer unique perspectives on topics relating to this theme. Speakers will consider challenges and opportunities of terrestrial and aquatic food systems, soil health, labor, and natural resources such as water, energy, air, and ecological systems. The seminar invites individual and institutional reflection on the path toward food system resilience, climate justice, and the knowledge, research, and actions needed at this time.
---
Session Schedule
When: Tuesdays from 12:30 p.m. – 1:20 p.m.
Where: Guggenheim Hall, Room 220
Print: Seminar Schedule (pdf)
Jan 7 – Food Systems in the Age of Climate Change: Mitigation, Adaptation, and Resilience // Presenter: Jeremy Hess, Environmental and Occupational Health Sciences, Global Health, Emergency Medicine, Schools of Public Health and Medicine at UW and Director of CHanGE at UW. Session video
Jan 14 – Oceans and Climate: Mitigating Impacts on our Aquatic Food Systems // Presenter: Jan Newton, Washington Ocean Acidification Center, College of the Environment, UW. Session video
Jan 21 – From the Ground Up: Climate Impacts of and on Soils // Presenters: Brittany Johnson, Environmental and Forest Sciences, UW; Sarah Collier, Nutritional Sciences Program and Environmental & Occupational Health Sciences, UW. Session video
Jan 28 – Ecological Life Support Systems: Climate Change and Natural Resources // Presenters: Tania M. Busch Isaksen, Environmental & Occupational Health Sciences, UW; Nicole Errett, Environmental & Occupational Health Sciences, UW; Amy Kim, Civil & Environmental Engineering, UW; Erin Horn, PhD Student, Civil & Environmental Engineering, UW
Feb 4 – Labor and Climate: Climate-Related Occupational Impacts on Agricultural Workers // Presenter: Maria Blancas, Outreach and Education Specialist, PNASH Center and PhD Candidate, Environmental and Forest Sciences, UW. Session video
Feb 11 – Sustaining Indigenous Foods on Treaty Lands: A Co-Management Approach on the Mt. Baker-Snoqualmie National Forest // Presenters: Libby Halpin Nelson, Senior Environmental Policy Analyst, Tulalip Tribes Treaty Rights Office and Ryan Miller, Manager, Tulalip Tribes Treaty Rights Office, with Holly Zox, Botanist (Contractor, Tulalip Tribes), and Harriet Morgan, Climate Impacts Group, UW 
Feb 18 Growing for Change: Agricultural Adaptations for Urban to Rural Systems // Presenters: David Montgomery, Earth and Space Sciences, UW; Julie Johnson, Landscape Architecture, UW; Yolimar Rivera Vázquez, Food & Farms Coordinator, Ecotrust
Feb 25 – Closing the Loop: Regenerative Animal Agriculture and Meat // Presenters: Livestock farmer panel co-hosted with WSU Food Systems. Moderated by Nicole Witham, Assistant Director, WSU Food Systems
Mar 3 – Food on Campus: UW Sustainability Plans and Initiatives // Presenter: Claudia Frere-Anderson, Director, UW Sustainability
Mar 10 – What's Your Plan? Strategies for Food Systems In the Age of Climate Change // Presenter: Yona Sipos, Nutritional Sciences Program and Environmental & Occupational Health Sciences, UW
---
Past Schedules
Presentations Listserv
Subscribe to our presentations listserv to receive announcements about upcoming Nutritional Sciences Program seminars, student thesis and dissertation presentations, and other program events. Get details