News & Events
Food Systems, Nutrition, and Health Seminar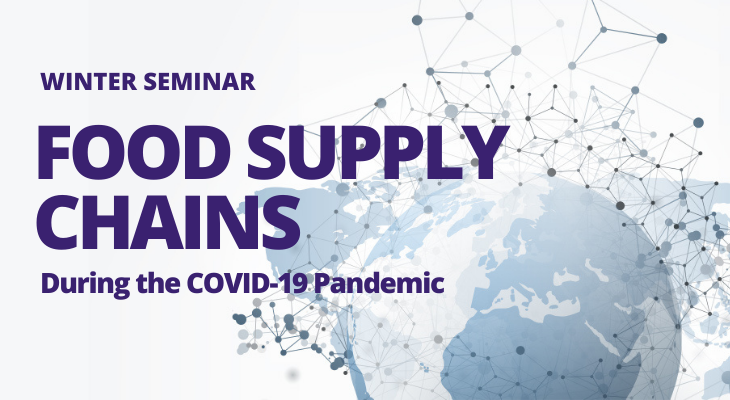 Winter 2021
Food Supply Chains During the COVID-19 Pandemic
Instructor: Yona Sipos | Lectures posted Fridays at 12:30 p.m. in Canvas.
Some sessions may be available on YouTube the same week of the scheduled presentation. Check weekly for links or subscribe to our channel.
As the COVID-19 pandemic emerged in early 2020, images of dumped milk and plowed-under crops, empty grocery store shelves, and lengthy food bank lines shocked the nation. While there are no nationwide shortages of food, inventory and availability of various staples have been affected, and food prices and food insecurity are on the rise, especially impacting Black, Indigenous, and People of Color (BIPOC) communities. Many food system laborers are from BIPOC communities and continue to be adversely affected as farmworkers, meat plant workers, and long distance truckers face compromised work environments. The food service industry has been crippled, and food packaging and distribution has shifted to accommodate household servings instead of restaurant and bulk orders.
"Food supply chains" have now become part of everyday conversations as the stress of the pandemic raises questions about the sustainability, resilience, and inequities of our food system. Food supply chains include the sectors and labor supporting food production, processing, transportation, distribution, and access. Linear representations of supply chains often belie the extended, complicated realities of interconnected national and global food systems. As food supply chains continue to be impacted by COVID-19 among other global challenges, it is essential to learn about opportunities to increase sustainability, resilience, and equity. This winter seminar brings a systems perspective to these questions and discussion.
Winter Schedule
View/download in PDF: Food Supply Chains During the COVID-19 Pandemic (pdf)
| Date | Title | Speaker(s) | |
| --- | --- | --- | --- |
| Jan 8 | Introduction to Food Systems During COVID-19 | Yona Sipos, Assistant Teaching Professor, Nutritional Sciences Program and Environmental & Occupational Health Sciences, Core Faculty for Food Systems, Nutrition, and Health, UW | Watch |
| Jan 15 | Food Supply Management: A Technological Approach and COVID-19 impact | Joe Heim, Health Services and Industrial & Systems Engineering, UW; Christina Mastrangelo, Industrial & Systems Engineering and Center for Healthcare Organization Transformation, UW | |
| Jan 22 | The Power of Local Food Systems - Why You Should Buy Better Eggs | Donnie Wilcox, Supply Chain Manager, Wilcox Family Farms Inc. | |
| Jan 29 | Resource Mobilization Advocacy for Global Food Systems, Nutrition, and Health | Shelby Wilson, Consultant | |
| Feb 5 | Impacts to the Potato Supply Chain Due to COVID-19: Insights from the WA State Potato Commission | Chris Voigt, Excecutive Director, WA State Potato Commission | |
| Feb 12 | From Canned Goods to TP: Managing Grocery Supply Chains Under the Strain of COVID-19 | Senior Grocery Buyer Scott Owen, PCC Community Markets | |
| Feb 19 | COVID-19 Food Access Among American Indian/Alaska Native Tribes in WA State: The Value of Food Sovereignty | Speakers from the Northwest Tribal Epidemiology Center, Northwest Portand Area Indian Health Board (NPAIHB): Victoria Warren-Mears, Director and Nora Frank-Buckner, Food Sovereignty Initiatives Director | |
| Feb 26 | Insights from the Washington Food Policy Forum | Laura Raymond, WSDA Regional Markets Program Manager, Small Farm Direct Marketing Assistance and Farm to School | |
| Mar 5 | Findings from the Washington State Farm Resilience Survey: Impacts and Adaptations During COVID-19 | Ana Fogel, MPH Student, Nutritional Sciences Program; Sarah Collier, Assistant Professor, Nutritional Sciences Program and Environmental & Occupational Health Sciences, Core Faculty for Food Systems, Nutrition, and Health, UW | |
| Mar 12 | Reporting Back From the COVID-19 Farmworker Study (COFS) | Dianna Torres Angulo, CIELO Organization, Mason and Thurston Counties | |
Support and Thanks
Our winter seminar is supported by gifts to the Food System, Nutrition & Health Incubator Fund. A special thanks to our alumni and friends for your support.
---
Archives
View all available videos on YouTube
---
Autumn 2020
Winter 2020

Subscribe to our presentations listserv to receive announcements about upcoming Nutritional Sciences Program seminars, student thesis and dissertation presentations, and other program events. Get details