News & Events
Food Systems, Nutrition, and Health Seminar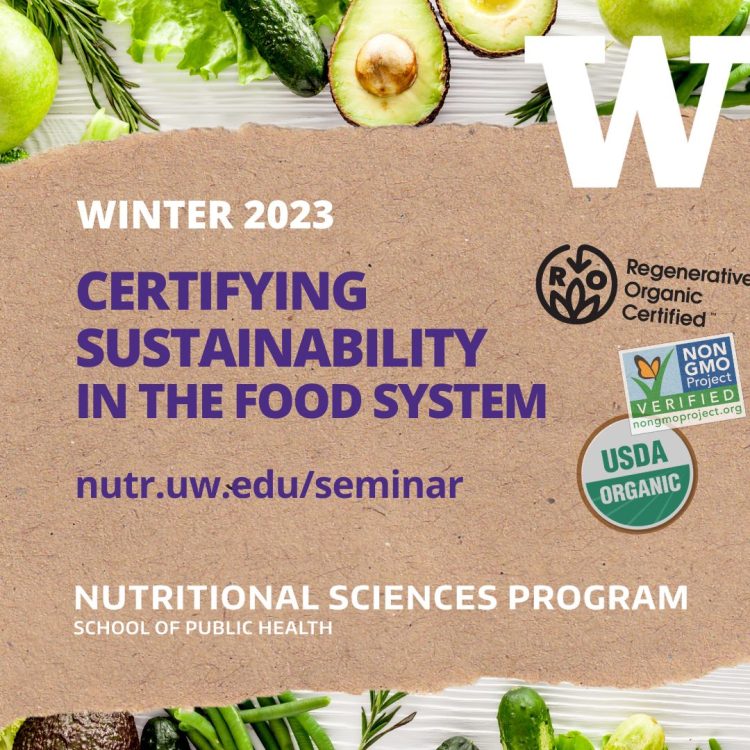 Winter 2023 Seminar Series
Certifying Sustainability in the Food System
Across the food system there are sustainability challenges at each level of the supply chain with environmental, social, and economic dimensions. Over the last half century, there has been a proliferation of certifications that focus on improving the sustainability of food system practices from the production level to the consumption level. These certification programs are meant to create frameworks to measure improvements and performance, while enhancing the transparency and traceability of food system activities. In this seminar, guest speakers from prominent institutions and organizations involved in certification programs in the food system will share their experiences, expertise, and perspectives in this domain. These experts and innovators are at the forefront of addressing the sustainability of our food system via certification programs along the value chain.
Speaker Schedule
Winter 2023 Speaker Schedule (pdf)
Details and Registration
Fridays, Kane Hall 120
Time: 12:30 p.m. – 1:20 p.m.
Instructor: Alissa Bilfield
1 CR course, register for:
All UW students, faculty, staff are welcome to attend
---
Archives
Watch recordings of many of our recent seminars on YouTube or explore our archives below. Session information, speaker schedules, and links to session recordings are available.
Subscribe to our presentations listserv to receive announcements about upcoming Nutritional Sciences Program seminars, student thesis and dissertation presentations, and other program events. Get details